Comics / Comic Reviews / DC Comics
Superman: World of New Krypton #11
By Andy Frisk
January 8, 2010 - 17:31
After another assassination attempt, this time on New Krypton's leader Alura, Kal and Adam Strange continue their investigation into last issue's murder of Councilor Mar-Li. Kal and Councilor Zo (who is in cahoots with ultra-militant Commander Gor and possibly Zod) nearly come to blows when Zo reveals his true colors with insults directed at Kal, his mother, and The Labor Guild in general. Kal and Adam track down Tyr (Kal's former Labor Guild friend and page) who leads them to Tam-Or He's been working in one of Zod's secret military installations...secret to Kal at least…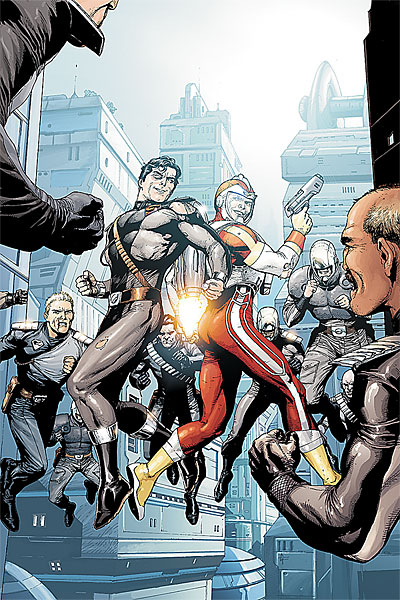 Tyr remarks to Kal near the end of Superman: WONK #11 (I just love the acronym WONK, especially now that it's show up in the actual pages of WONK!) that "It strikes me that things are worse for us now than they were before you came." Way back in the first of this series of monthly looks at Superman WONK, it was remarked that "Superman arrives at New Krypton…and starts spreading truth and justice…" He did so by planting the seeds of dissent in Tyr when they first met. At the time though, it appeared that Tyr had been blinded into finding "happiness in slavery" as a member of The Labor Guild. Was Tyr so oblivious to the wrongs that his Guild, which does all the physical work and forms the bedrock upon which his society thrives, suffers due to a lack of representative rights, OR are things really worse, as Tyr suggests, now that Kal's seeds of dissent have been so twisted by behind the scene schemers like Zo, Zod, and Gor that they shouldn't have even been planted?
The answer is obvious. Robinson, Rucka, and Geoff Johns (as head overseer of the Superman line) have crafted a hugely interesting and poignant tale with WONK. They have taken us on a tour of a society that while in many ways is technologically and fantastically foreign to our own, is allegorically very similar to ours in its structure, strengths and weaknesses, and prejudices. New Kryptonian society is soon to be threatened by an escaped Brainiac and Lex Luthor (according to preview blurbs and teasers for the upcoming War of The Supermen mini-series), so it appears we'll be witnessing an end to its existence in some way (it couldn't remain in orbit around our sun forever), but one gets the feeling that the New Kryptonian society's apparent inability to change and progress, at least thus far, would have ended up destroying it. This inability to change and progress isn't necessarily an indictment of Kryptonians as a race of beings, but more an indictment of those in power on New Krypton who simply manipulate the population into manufacturing more power for themselves through fear mongering and xenophobia (both of which are afflicting Earth under the influence of General Lane). With WONK drawing to a close and War of The Supermen (WOTS) on the horizon, the climax to months of buildup will be the next must read (at least for this Superman fan). Zod and Lane's grasp for power and the return of Brainiac will make for a powerful climax indeed.
There is simply no further praise that can be heaped upon Woods and Randall's artwork. It has made WONK a joy to read every bit as much as Robinson and Rucka's story has been. Whichever project these highly talented artists tackle next will be every bit as worth reading, simply because of their great work. Their ability to visualize and bring to life a New Krypton that pays honorable homage to Richard Donner's Krypton of Superman The Movie, yet make this world of sun stones and sun crystals fresh and exciting, is a testament to their talent.
Overall, WONK will definitely go down as one of the greatest Superman stories ever told as I predicted way back in my look at the first issue of this series. This was one title that hopefully you haven't missed.

Rating: 10 /10
Last Updated: September 6, 2021 - 08:15