50 Years of Super Friends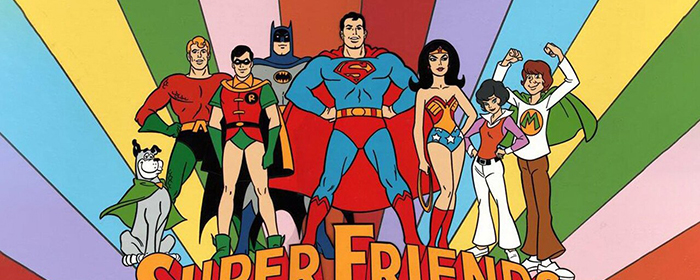 By Philip Schweier
September 21, 2023 - 10:30
In September 1973, less than a year after buying my first comic book,
Super Friends
was added to ABC's Saturday morning line-up. The show was a treat for me personally. I was somewhat new to comics, but a big fan of Saturday morning cartoons. It was produced by Hanna-Barbera, with character designs by Alex Toth, who'd been a successful comic book artist before moving into animation in the 1960s.
The previous July, my family moved to Decatur, Indiana, an idyllic small town in the Midwest. Perhaps I'm viewing through a lens of childhood (or dhildish) nostalgia, but I recall it being a blend of Bedford Falls, Lake Wobegon and Smallville. One of the first kids I met on 4th Street was Tony. I was 8 and he was 6 – and a small 6 at that.
I flatter myself to say I was his gateway to comic books, and
Super Friends
only added to our interest. What I didn't learn until many years later is that when my mom expressed concern that we were reading "too many comic books," Tony's mom – the high school librarian – pointed out, "At least they're reading."
Tony and I routinely shared our comics, and tried to avoid buying the same issues. One day as I was playing in front of my house, he and his dad walked by on their way home. Tony was carrying
Justice League of America
#115, a 100-page super-spectacular. It naturally caught my eye, but Tony seemed reluctant to show it to me. I couldn't blame him, I'm the same way with new comics.
And old comics, too. Decatur hosted a monthly flea market at the local community center, and many of the Silver Age comics in my early collection came from there. Best bargains anywhere.
In 1976, DC Comics launched a
Super Friends
comic book – kind of an all-ages Justice League title – which Tony regularly bought. And even though the stories were less sophisticated than I preferred, I enjoyed it, too.
In 1977, the show was retitled the All-New Super Friends Hour, replacing the original trio of Wendy, Marvin and Wonder Dog with alien teens Zan, Jayna, and their monkey Gleek. Each episode featured a shorter adventure starring the Wonder Twins, as well as another featuring two of the Super Friends paired up. A longer, primary story then featured the whole team. I presume this reformatting was a strategy to make the show more marketable for syndication. Between segments there were short spots with a Super Friend providing basic safety lessons, first aid advice, demonstrating magic tricks, creating crafts, and presenting a two-part riddle featuring the week's primary plot line.
The following year,
Challenge of the Superfriends
introduced the Legion of Doom, a rogues gallery of DC villains headquartered in a massive Darth Vader helmet. The show also began featuring other members of the Justice League. A longer, primary adventure then featured the whole team. Original characters created for the show included heroes Apache Chief, Black Vulcan and Samurai.
In December 1978, we moved again, this time about 50 miles away. Tony and I stayed in touch. I missed the flea market, but thankfully, so did my dad. A few times a year we'd make the drive to Decatur, and I'd look for Tony shopping for his own comics. Maybe I overlooked him; he still remained considerably shorter than I.
The show was re-tooled again in 1979, as the
World's Greatest Superfriends
. Shortened to a half-hour program, it was mostly edited versions of previous episodes, with a handful of new stories to help keep it fresh. The next season, it was retitled as
Superfriends
, with each episode consisting of four shorter adventures featuring the original core team.
Super Friends
remained a staple of Saturday morning viewers until 1983, when ABC dropped it from its Saturday morning schedule. However, Hanna-Barbera continued producing episodes for broadcast in Australia.
It was around this time that I last saw Tony. I was a senior year in high school, he was a sophomore. Still small, he was humorously paired with a significantly taller girl (also a neighbor of ours) in a high school production of
South Pacific
.
After my graduation, my parents and I moved to Georgia, and Tony and I lost touch. I may have written him a few times, but don't recall receiving much of a response. We were both college-age, with other priorities.
After a year's hiatus, the show returned as
Superfriends: the Legendary Super Powers Show
, to tie into Kenner's toy line. It retained its 30-minute format, but added Firestorm to the cast, as well as introducing DC villain Darkseid. In 1985, it was retitled the
Super Powers Team: Galactic Guardians
, with Cyborg added to the roster. However, after 12 years, the show had run its course and was not renewed the following season.
In the years that followed, my siblings who remained in Indiana found mention of Tony's dad in the
Indianapolis Star
. He'd taken a position with the state government. With the advent of the Internet, I looked for Tony, but it took me a while to locate him. He'd become a super-hero, of sorts – a philanthropy consultant, helping others maximize their financial contributions to create a better tomorrow.
In 2008, I took the opportunity to reconnect with him. I was visiting Indiana for my 25th high school reunion, and knowing he lived in the same Indianapolis suburb as my sister, I suggested we meet. Alas, the day after I flew into Indy, he was scheduled to fly out, bound for a new home in Pittsburgh. "Well, I'd be happy to meet for breakfast that morning, if you're willing," I offered.
He was willing, and I was pleasantly surprised to discover he'd had a growth spurt in high school. He was now taller than I am, though only by an inch or so. When I inquired about his old comics, he said he'd moved them to Pittsburgh, mostly because he didn't know what else to do with them. "I'll take 'em off your hands," I told him. "How much?"
A few weeks later I received a package in the mail, full of old comics. There were a few that I had traded to him as kids, but there was also a near-complete run of
Super Friends
(1976-1981). But the real prize was his original copy of
Justice League of America
#115. Sure, I'd long since bought my own, but there's something about owning something knowing the provenance.
Though we're not as close as we were when we were neighbors on 4th Street, Tony remains one of my oldest friends, thanks to the connectivity of the Interwebs. And as much as I enjoyed the
Super Friends
(even the much-maligned first season), its anniversary pales against the blessing of a 50-year friendship.
Last Updated: September 23, 2023 - 06:46