Shiki Tsukai Volume One
By Julie Gray
Aug 20, 2007 - 19:43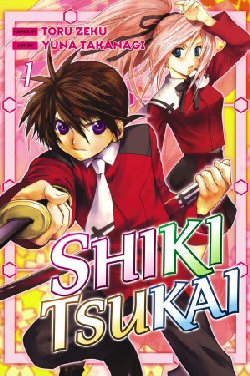 Shiki Tsukai Volume One Cover Art
"Magic Warrior"
Take a boy who is destined for great things, add a cute girl to the mix who ends up being his protector and mix in multiple bad guys, sword wielding magical action scenes and coat it with the seasons in Japan and you've got
Shiki Tsukai.
Being a huge fan of shonen and action manga, I found that whilst
Shiki Tsukai
does fit the bill, it seemed to be yet another template of other manga that have come and gone before (
Bleach,
anyone?). There are a lot of similarities between
Bleach
and
Shiki Tsukai
– just remove the Shinigami and replace them with
Shiki Tsukai
– warriors who practice magic influenced by their birth date and the seasons.
Whilst the concept is definitely interesting and the manga does a great job of explaining this to the readers, I didn't really think the action sequences were as intense as they could have been and the main character in the story, Akira, seemed to be lacking a bit of backbone. Whilst he goes through the motions of finding out all about his special abilities, there really isn't a lot of action happening in the middle.
The pace of the manga is reasonable for an action-based manga but during portions of the storyline, I found myself a little lost as new characters were introduced without any direct connection to other characters in the story. It did disrupt the overall flow of the storyline. The 'bad guys' probably could have done with a bit more 'beefing' up and really don't seem like much of a threat to the
Shiki Tsukai
who are sworn to protect Akira.
The artwork in the manga is great - especially the pages that divide each chapter.
Overall, I felt that the storyline could have done with a little more direction and depth and the action sequences could probably do with more 'action' and fighting to pick up the pace a little. I hope to see more of this in the next volume and perhaps we'll see Akira really kick some butt when he realises the potential of his power.
Shiki Tsukai: Volume One
includes extensive translation notes, messages from the author and artist, special extras and character profiles. The official Del Rey website for
Shiki Tsukai
is
here
.
Art Work:
7/10
Story:
5/10
Overall Rating:
6/10
Contact the author of this review:
Julie@comicbookbin.com
Last Updated: Jun 26, 2018 - 9:28