Shiki Tsukai: Volume 7/8
By Leroy Douresseaux
March 28, 2011 - 13:12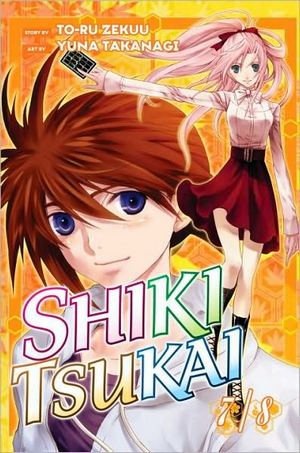 Shiki Tsukai Volume 7/8 cover image
Rating "OT" for "Ages 16+"
Teenager Akira Kizuki recently discovered that he is one of the Shiki Tsukai. They are supernaturally powerful people who wield the seasons – warriors who protect the planet's natural order. In fact, Akira may be the great "Shinra,' the warrior with power over all seasons. There is a war between the Shiki Tsukai of Summer and Autumn, who want to destroy mankind in order to save the earth, and the Shiki Tsukai of Winter and Spring, who want to help humanity.
Shiki Tsukai, Vol. 7/8 collects Vols. 7 and 8 of the graphic novel series. Akira learns the truth about Koyomi Sakuragi, a Shiki Tsukai of March who guides and protects him. In the wake of the first blossoming of his powers as the Shinra, Akira struggles to understand how to wield them. Then, the Shiki Tsukai of Summer launch an attack against Akira's school and classmates. They also separately attack the headquarters of the Sakuragi Corporation in order to capture Kenshin Sakuragi, Koyomi's father.
THE LOWDOWN: First, I must inform you, dear reader, that the publisher, Del Rey Manga, piles on the extras at the end of each volume. Sometimes, you might think that this is as much guidebook as it is manga.
As for the manga, I think of Shiki Tsukai as being a kind of superhero comic book by way of such shonen manga as Naruto and Yu-Gi-Oh! The art isn't as polished as it is in those manga, and, here, the narrative is a bit overcrowded with characters. That's before you even get to the incantation, sigil, and playing card, overload. Still, writer To-ru Zekuu composes a ripping us-against-the-world yarn, and artist Yuna Takanagi is pretty good at choosing the right graphics to visualize the story.
POSSIBLE AUDIENCE: Fans of action/fantasy, superhero-like manga will like the exciting Shiki Tsukai.
B+
Last Updated: August 31, 2023 - 08:12