Rocketeer Relaunch?
By Philip Schweier
August 22, 2012 - 13:00
Hot on the heels of today's release of The Rocketeer: Cargo of Doom from IDW comes reports from Vulture.com that Disney is considering a reboot of The Rocketeer as a film franchise.

Created by the late Dave Stevens, the Rocketeer was adapted for film by Danny Bilson and Paul De Meo for Disney in 1991. The movie was directed Joe Johnston, who helmed 2011's Captain America: The First Avenger. Bilson and De Meo also produced The Flash for CBS in 1990.

For fans of the genre, The Rocketeer represents a loving homage to pulp adventures of the 1930s, much like the Indiana Jones films. In the movie, William Campbell played the title role of Cliff Secord, who comes into possession of a rocket pack wanted by gangsters, g-men and enemy agents.

The Rocketeer has had a turbulent publishing history. The feature debuted in 1982 as a back-up feature in the pages of Starslayer #2 and 3, published by the now-defunct Pacific Comics. The story continued in Pacific Presents before the company went out of business and the storyline was concluded by Eclipse Comics.

In the late 1980s, a sequel, entitled Cliff's New York Adventure, was launched by Comico and later finished by Dark Horse Comics.

Though spawning a rabid fan base, no further adventures were created by Stevens, who reportedly struggled too much to generate satisfying illustrations necessary to a regular publishing schedule. Stevens died in March, 2008, from hairy cell leukemia.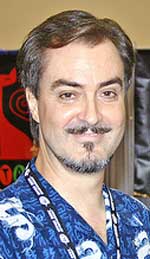 Dave Stevens

In recent years, IDW has published a handful of new stories written and drawn by some of the comic book industry's brightest stars, culminating in a brand new limited series. The Rocketeer: Cargo of Doom is written by Mark Waid and drawn by Chris Samnee and is available now.
Last Updated: September 6, 2021 - 08:15