Review: The Walking Dead: Amid the ruins

By Sean Booker
August 1, 2014 - 22:30
Amid the Ruins, Telltale Games' fourth episode, sets up a new slate of difficulties to work through but muddies up the general narrative arc of this second season. It's a quieter episode as we take a break to assess how everyone is doing after the previous events. We get some great character interactions but only fleeting moments of action. Issues with major decision making cause this episode to feel weirdly out of place in a now confusing and almost none existant overarching plot line.
This fourth episode feels quite separate from the events in the last three. A lot was wrapped up during the third episode and now we're left with simply a wandering aftermath of situations. There's no main threat anymore to this season that we can see and it seems like a new story is starting up by the time you finish Amid the Ruins. It causes the narrative to feel lost and less meaningful than what we saw earlier. Intrigue is still there but it isn't anywhere near as strong as we have come to expect.
Episode four is a very character driven addition with some brief elements of danger. There are a lot of slow, quiet moments that simply exist to introduce new characters and give more background on those we have already met. One new character is specifically very interesting and it's great to see so much time given to them. I enjoyed the overall low key tone to this episode after going through the crazy events of the last one. It would be great if this was the calm before the storm to come in the finale.
When there are dangers present it seems some characters are just being killed off quite easily in order to shorten the list of survivors to remember. This rang quite true when I worked hard to save one person just to see them get taken out quickly later on; as if there was no real point in trying to save them in the first place. Others are killed off screen while some pass away of exhaustion despite my decision to give them more rest and comfort. This episode felt like it needed to shoehorn its plot structure into place instead of letting me work through my choices.
The major decisions in Amid the Ruins felt really lackluster and confusing. There was only one moment at the very last second that gave me pause. It was a great question to throw at me since I was utterly stumped in what was a serious situation. Other than this one glimpse I never felt any real sense of weight to the rest of my play through. There was even a decision I made early that seemed to be completely contradicted in the final confrontation. The game made it seem like I chose an unpopular path that the story didn't want to actually go down. As if I should have picked their ideal path all along. It was odd to see and really made me feel like I had no control over these outcomes - definitely not a great impression to have coming out of the episode.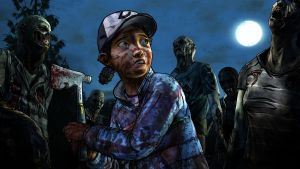 Amid the Ruins changes the threat we've been dealing with for the last three episodes by getting rid of almost all of it. It feels like the start of something else which is worrisome with only one segment left. It's a weird narrative since the last episode tied a lot of threads up and left our survives in a shaken state to hash out now. This quieter episode is appreciated after the events prior and we can only hope it set the ground for a big climactic finale. Unfortunately, the story seemed to have a set path regardless of how I dealt with everything and left me feeling ignored.
Rating: 6 /10
Last Updated: February 5, 2023 - 09:06