Review: The Walking Dead: A House Divided
By Sean Booker
March 12, 2014 - 00:02
A House Divided, the second installment to this current season of Telltale Games' The Walking Dead series, combines a good deal of relief and caring moments with a harrowing sense of dread as we look forward. The episode changes the environment we worked through in the last game as we encounter numerous new enemies and dangers. It starts off real strong and ends on an even bigger note in one of the best episodes we've seen in The Walking Dead.

We get a lot of detail and character building in A House Divided as well as a good sense of where this season is going to lead. It works primarily as a setup for what's to come. There are a number of moments where the game takes a break from the action just for you to explore the new personas that Clementine has now banded together with. These characters are different and interesting. We also get to see how the past season relates to this one for the first time and how your allies will deal with some of your history as we progress into the main arc of this story.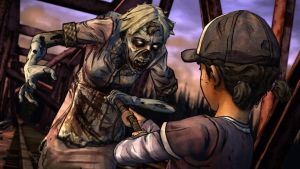 It's worth noting that the pacing in episode two is also really great. The episode starts off strong and doesn't let up. We move from moments of pure dread to others filled with a quiet and uncomfortable tension. A House Divided also has some truly pleasant and warm sections in the middle that really move the player through a range of emotions. This, along with a selection of difficult choices really give a lot to the game. Episode two is a real fun time from start to finish.
The story continues to deal with common apocalyptic scenarios, and without getting into any spoilers I'll just say that it's fun to see how the dynamic of these people work together and react to the different dangers. You play as Clementine but (personally speaking) it was easy for me to see how this game's world has changed how I react to the dialogue trees. I found that I made the girl a lot colder than how I played Lee the first time and it's awesome to see that the game has me thinking differently about my choices. I've become a much more cautious player as opposed to always giving someone the benefit of the doubt.
One negative I found was in the game's design towards keeping the main character (Clementine) safe from any major harm. Knowing that the game will just reload if she actually dies causes me to be more careless with the girl in my choices. Running head strong into danger isn't something I would ever want to do but it's what I chose for her when given the option. It's easy to know the game wouldn't kill the protagonist this early in. It would actually be amazing if something as dramatic as a complete shift in main characters happened. It's a small gripe but it argues against the very nature of this game's goal - it hampered/influenced negatively my decision making in a game about choices with lasting effects.
A House Divided is one of the best episodes I've played from Telltale's The Walking Dead series. It remains intriguing for the whole way through and engages the player with interesting character dynamics. If you have played the first season then there's even more for you here. The wonderfully awful moments are paired with some equally enjoyable down time. Having seen how this episodes ends off has me very curious where this season will take us.
Rating: 10 /10
Last Updated: February 5, 2023 - 09:06