Comics / Comic Reviews / DC Comics
Review: The Hellblazer #9 (2016)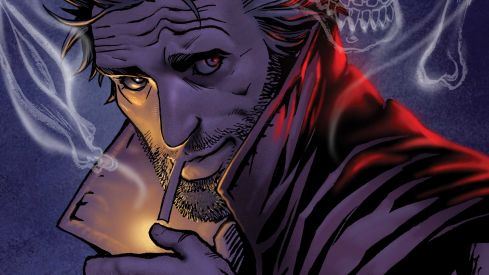 By Andy Frisk
April 25, 2017 - 23:07
Constantine and Mercury continue to search for a missing journal with info they need to garner important information on the Djinn the are hunting while a Brexit supporting politician gets a lesson in real power...


Simon Oliver keeps the pace rather slow, instead deciding to focus on character development, and does something that gets back to the heart of the spirit of the character: he gets political (if only in a clumsily minor way). Constantine bashes Trump, and denounces "one percenters." It's a little less subtle than the liberal/anarchic politics of punk rock and economic disparity that infused the early Constantine stories with their unique feel and themes. Honestly, it feels forced, but it's there, and Oliver demonstrates that DC Comics isn't afraid to go near political themes anymore, at least tepidly.
With no flashbacks this issue, unlike last issue, there is a continuity of art. Davide Fabbri's art is a little on the cartoonish side, but that isn't a criticism. Fabbri's style doesn't detract from its gory elements, after all
The Hellblazer
should be as much a horror title at its heart as it should be a political one.
The Hellblazer
continues to move along slowly, but surely, seriously re-capturing some of the original pace and spirit of the original series. I just hope in this age of short attention spans the readership appreciates the slow burn.
Rating: 8 /10
Last Updated: February 5, 2023 - 09:06