Review: The Flash Episode 101 "City of Heroes"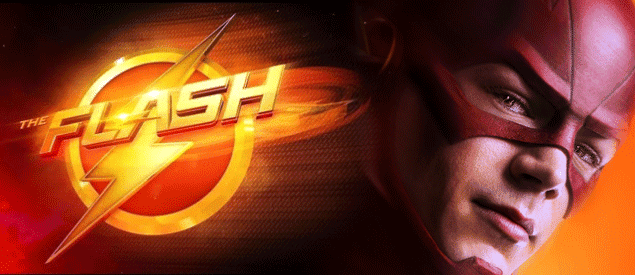 By Andy Frisk
October 8, 2014 - 22:49
First and foremost, this is the series that DC Entertainment needs it if is going to compete with Marvel Comics' domination of live action superhero films, shows, etc. The Nolan Batman Trilogy was an exercise in pure cinematic art, but they weren't exactly films for the whole family were they? There's no film in the new Marvel Cinematic Universe string of films that doesn't strike that family friendly, yet adult engaging, balance that
Thor
,
Iron Man
,
Marvel's The Avengers
,
Captain America The First Avenger
and
Guardians of The Galaxy
do (
Captain America The Winter Soldier
was the most serious and adult themed film of them all, but my nephew STILL sat glued to the TV when he saw it on BluRay for the first time). Even
Man of Steel
, as great a reboot of the Superman franchise that it was, wasn't exactly a family film per se. I do not say this like it is a bad thing, at least not for all of us post-
Watchmen
/
Dark Knight Returns
generation. I do say this as a bad thing for DC Entertainment's cash coffers. Enter The CW's
The Flash
, and suddenly it appears that DC Entertainment has finally figured it out.
I've always been of the mind that The Flash is sort of the Spider-Man of the DCU. I know that the Silver Age Flash predated Spider-Man by about a decade or so, but Barry Allen, and especially Wally West (in the Post-
Crisis
years) became a more sci-fi based and colorful character than Batman or even Superman. The Flash's rogue's gallery was (and is) made up of some of the most memorably silly villains this side of Spider-Man's (and his early contemporary, Daredevil's). Gorilla Grodd (Easter Egged here in the first episode), Weather Wizard (portrayed seriously and realistically as well here), Mirror Master, etc. etc. all rank up there with The Vulture, The Chameleon, and The Scorpion, but not the Green Goblin, no one measures up to the Green Goblin...but I digress. The point being that Barry Allen and Peter Parker have more in common thematically than one might at first think.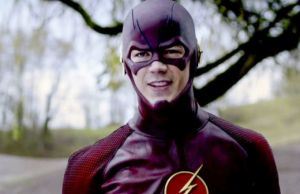 Therefore the youthful Grant Gustin is perfect as Barry Allen/The Flash. Like Peter Parker, Allen has a new set of strange and super powers to deal with and plenty of great power to handle responsibly. He also has girl trouble, much like Peter does, but where Allen differs is that he has a support group right off the bat in the form of STAR Labs owner Harrison Wells (Tom Cavanagh) on the superhero side and Iris West (Candice Patton) and her father Det. Joe West (Jesse L. Martin) on the human side. West helped raise Allen after the murder of his mother (by a smartly blurred Prof. Zoom) and grew up with Iris, whom we learn he has also grown to love as more than a friend. Poor Barry though, the 9 month coma that the destruction of the supercollider at STAR Labs, and resulting metahuman creating explosion, put him in ensured that Iris would not learn of Barry's love for her, and result in her striking up a relationship with Eddie Thawne, her father's partner. Gustin portrays Barry Allen with a gusto and glint in his eye, coupled with a very strong sense of wide eyed heroism, that's striking. It's something that has been missing in recent live-action portrayals of DC Comics' heroes that immediately endears both Gustin, as an actor, and as Barry Allen/The Flash, to the audience.
This is a contemporary telling of a superhero's tale though, so it rooted in the real world. There are gun fights, and people get hurt, and one even gets killed, as a result of Barry and the fellow supercollider explosion metahuman creation Clyde Marden/Weather Wizard (Chad Rook). Out of this tragedy though comes Allen's determination to do the right thing and rise to the heroic challenge, even if Harrison Wells (who has some super secrets of his own, and boy are they some doozies) at first declares that Allen is not a hero, but later changes his tune.
Barring that bit of serious (and well handled) drama,
The Flash
Episode 101 "City of Heroes" engages in the fun that the character of The Flash should radiate alongside the requisite realism, seriousness and sci-fi that the character's adventures also bring to the table. Allen's giddy use of his powers for the first time ranks up there with every portrayal of Spider-Man's "first web swing" joys. It's great that we see a young Barry Allen reveling in his new found ability. It will make his coming of age stories, as the series continues for many seasons (as assuredly it will) and as Allen/Gustin ages accordingly into full adulthood, something to behold.
So while the Joker's sneering "Why so serious?" might make for high cinematic art in the dark and murky world of The Nolan Batman Trilogy, Barry Allen's winning smile, girl troubles, and struggles with his new responsibilities (which now include finding his mother's true murderer and freeing his father from prison) will make for a runaway (no pun intended) television hit, and prove that there
is
some of that elusive marvel-like wonder alive in DC Comics' characters as well. The CW's
The Flash
is here to stay, and superhero live action art is better for it.
Rating: 10 /10
Last Updated: February 5, 2023 - 09:06