Review: Halo 4
By Sean Booker
November 7, 2012 - 22:15
Halo 4 brings the massive series to a new developer, 343 Industries, after seeing Bungie leave the franchise. With this new developer leading the game it allowed for Halo 4 to bring a fresh new taste to the series. And though the game maintains the series's level of quality, it doesn't bring enough new aspects to really get anyone excited. But if you're not looking for a quality time with your usual Halo experience then Halo 4 is exactly what you'll want.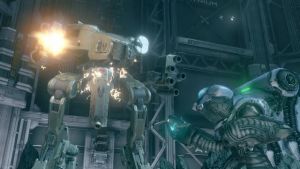 If you have any history with the Halo franchise, and you probably do, you'll immediately notice that the control scheme and speed of the game is quite different than what you'd expect. In fact, Halo 4's default controls and addition of a never ending, always available sprint control make the game feel much more like every other shooter on the market. For example, clicking in the left analog stick will allow you to run and pressing the X button will reload your gun. This was definitely something I appreciated as I was more easily able to pick up and play the game without having to relearn any controls. And for anyone who prefers their older, standard Halo control scheme, the game offers a number of different customization options.
The gameplay holds up well throughout the five to six hours you'll need to spend completing the campaign. As usual you will able to take on the story alone or cooperatively with up to four players - a great feature. Skulls also return to change up the campaign chapters by adding additional benefits and challenges. And though the story is a little short (and even more so when having your friends join in) I did enjoy the majority of it. The only downside I felt was in a very late game section where you're tasked with flying through a long, narrow corridor. I found myself never really getting a handle of the flight controls and died more times in that stretch than any other section. It's good that the game only has one of these sections and gets most forgotten with the following final mission being pretty fun.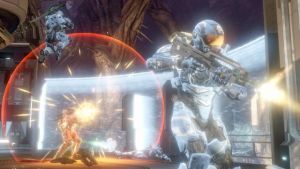 Of course there is a robust selection of multiplayer options in Halo 4 that include both competitive and cooperative modes outside of the main campaign. The usual competitive deathmatch modes are back along with the persistent level meter that most mainstream games have now. Gaining experience always you to unlock ways to customize your armor, weapons, loadouts, etc. Any modes outside of the campaign will reward you with experience for killing enemies and generally playing well. This was kind of a downside since playing through the story doesn't help advance this overall stat, something that would have been nice.
The new addition to the multiplayer is the Spartan Ops mode. These work as individual missions that are collected into a larger 'episode' arc. They play much like the campaign with a specific goal outlined for you within a closed off area. The mode works well as stand alone content but since there is currently only one episode out (five chapters to play) it won't last you much longer than an hour to complete. 343 Industries is planning to release more of these as downloadable content which is definitely welcomed, but for now this section of the game just feels lacking.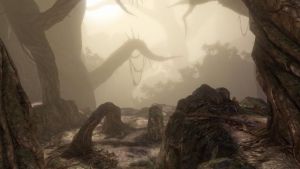 Throughout the game you'll definitely notice its great look as this is easily the nicest looking Halo game to date. Though that may seem obvious with this being a newer game and thus, it has better hardware powering it, it's the colors and lighting that really stuck out to me as appealing. And with the number of different environments you'll come across it's great to see so much diversity in the way the levels look and how they're laid out.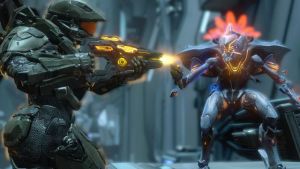 My biggest grievance with the game is just how similar it feels to the past games in this franchise. For most of the story you'll be fighting the Covenant which is depressing since we just went through five other games doing the same (especially since the story had us finish that feud beforehand). Halo 4 does introduce a new, different enemy type but they're only sprinkled throughout and the narrative quickly finds a reason for you to be facing the usual opposing Grunts and Elites again. Along with this, the new series of weapons act as just a rebranded version of the guns you're already familiar with despite their nice new aesthetics. There will be an alien equivalent to the Spartan's shotgun, assault rifle, pistol, battle rifle, etc. if you're wanting. With Halo 4 being developed by a new team, it's easy to see why they would want to play this installment safe but it would have been nicer and much more interesting if they really tried to go outside the box.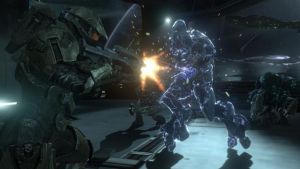 For the most part I enjoyed my time with Halo 4 and the ability to add in friends to every mode made the game that much better for me. It has a great look to it and the standardization of its control scheme makes it more accessible for new players. If you're a Halo veteran there will be a lot here to excite you but if you're looking for something more interesting and outside the formula of the series then Halo 4's inability to push boundaries will leave you a little down.
Rating: 8 /10
Last Updated: August 31, 2023 - 08:12