Comics / Comic Reviews / DC Comics
Reign in Hell #8
By Andy Frisk
March 1, 2009 - 11:28
Just about every single magic and mystical based hero and villain has made an appearance in Reign in Hell, including Lobo. Wait a minute; Lobo isn't exactly a magic based villain is he? Oh, what the hell (pardon the pun), throw him into the mix anyway.
Briefly, we get a resolution to the battle where Satanus appears triumphant but one should never rest on one's laurels, or discount those closest to you as allies. Lobo shows up again to battle with our heroes. Dr. Fate, Dr. Occult and Nightshade team up to find a portal out of hell for all those willing to go and Zauriel (one of the most interesting and underused characters in the DC Universe) remains behind, hopefully because he has a story brewing at the hands of Didio and company. Well, one can hope at least.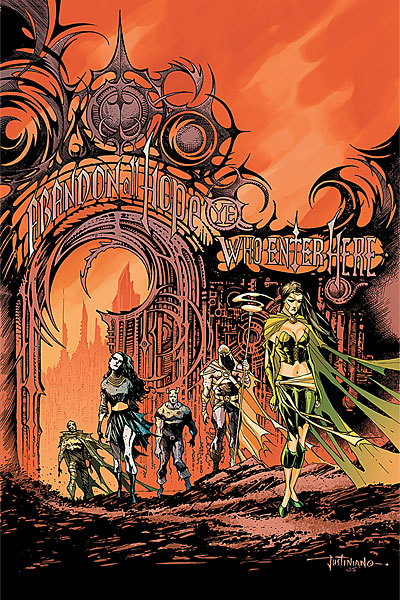 Bye, bye...hopefully, just for now.
Derenick's pencils, throughout the series, did well to capture the landscape of hell with its jagged and sharply pointed angles and buildings. It is his renderings of the characters felt a little weak. We get a great deal of highly un-proportioned facial expressions, which could be written off as the distorting power of the aforementioned landscape on the characters themselves (think Marley's-formerly of Scrooge and Marley's- ghost here with his jaw dropping to his breast). For the most part though, they didn't seem to capture the potential beauty, or horror of certain characters, instead making them look a little silly on occasion.
Overall, being apparently one of the few readers who eagerly anticipated the now defunct Shadowpact series monthly, I was happy to see some of my favorite characters in action again. Especially Ragman, Zauriel (did I mention he's one of the most underused DC characters with the greatest potential?) and Nightshade, although the budding relationship between Ragman and Nightshade that developed at the end of Shadowpact is apparently almost entirely dropped. It was also great to see Etrigan and Dr. Fate, two of DC's strongest mystical characters, in action again, both of whom, alas, have no current series of their own. Hopefully, DC has some more plans for these characters as there are potentially, in the right hands, a great deal of stories that can be wrangled from these magical (again, no pun intended) characters.

Rating: 8.5 /10
Last Updated: September 6, 2021 - 08:15