Comics / Comic Reviews / More Comics
Reed Gunther in Fish Out of Slaughter!
By Andy Frisk
July 11, 2010 - 11:22
Reed and Sterling make it all the way to New York City where they plan to catch up with Starla in order to stop the up to no good Mr. Picks from unleashing a bevy of beastly creatures upon the Big Apple.. The only problem is Picks' magical idol has already spawned some stupendously hideous creatures which New York's finest have been forced to wrangle with! With monsters already on the loose, and with a cowboy and his trusty bear making their first trip to a major metropolis, some seriously silly shenanigans are surely to shape up, and they do. Complicating matters is the introduction of a new mysteriously menacing new character: Special Agent Mundy. Will this late 19th Century version of a brooding X-Files agent end up helping or hurting Reed and Sterling in their quest? Time will tell…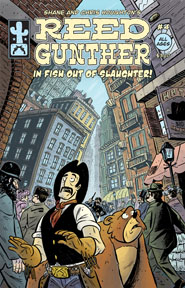 The fourth issue of one of the best and most fun indie series out there continues the slapstick yet oddly (albeit all ages friendly) spooky paranormal/comedic/action packed adventures of one of the most refreshing bumbling heroes in recent memory and his trusty steed…uh, friend…Sterling the bear. In Reed Gunther in Fish Out of Slaughter the Brothers Houghton deposit Reed and Sterling smack dab in the middle of New York City, which might as well be another planet judging from our heroes' reaction to the sights and sounds of the Big Apple. Reed manages to adapt though and even rescues his buddy Sterling from the monster holding pens of Special Agent Mundy. The adventure is far from over though as Reed, Sterling, and Starla still have to face the dastardly Mr. Picks and save New York City along with the rest of America from his monsters. The newly introduced Special Agent Mundy should be involved as well in the climactic showdown. He's definitely one of the coolest and potentially interesting characters introduced thus far by the brothers. (How about a spin off series starring Mundy and his adventures? Hmmm…).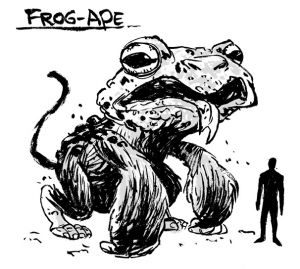 Chris' art simply continues to get better and better with each issue. He's really got the slapstick silliness down, but also does a great job recreating late 19th Century New York. His monsters are interestingly unique as well. He also does a great job of bringing President Grover Cleveland to life, and he's conjured up a cool visual take on Shane's newest character Mundy. It is perhaps the cover to this issue though that stands out the most. The dizzying perspective and feeling that Reed and Sterling are overcome with when they arrive in New York City is expertly conveyed.
According to Shane's endnotes, there's one more chapter to be told in Reed and Sterling's debut storyline. It promises to be packed with showdowns, confrontations, and "the most exciting Reed Gunther adventure to date!" Based on what we've seen thus far from the brothers, it should be all that and more.

Rating: 9.5 /10
Last Updated: September 6, 2021 - 08:15