Comics / Spotlight / Progressive Panels
Reed Gunther at Image!
By Andy Frisk
March 1, 2011 - 16:15
During my short tenure with The Bin I've been privy to some great opportunities. Having a forum to write about, discuss, and sometimes vigorously debate the merits of our beloved sequential art medium, being allowed to write freely and uncensored, and being granted my own column are all almost eclipsed by the privilege of getting the chance to interact with some really creative and talented writers and artists. Two of the most fun-loving, talented, and all around awesome writer/artist duos, Shane and Chris Houghton (or as I like to refer to them: The Brothers Houghton) have some great news to share with fans of their work and their greatest (thus far) creation, Reed Gunther. Being one of the first writers and sites to expound upon the merits of Reed, his trusty bear friend Sterling, and their fun cast of characters, I'm extremely happy to share the following news with our readers and Reed fans everywhere! Congratulations guys! I, like many others, look forward to seeing you guys go big time! Like I mentioned before, we might just be witnessing the birth of the next big independent creation since some teenaged turtles hacked and kicked their way into the hearts of fans everywhere!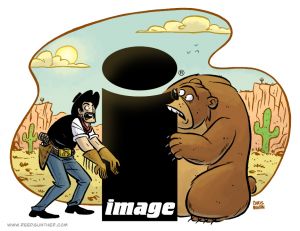 Official Press Release
REED GUNTHER LASSOS A NEW HOME
Shane and Chris Houghton Bring Their Grizzly-Riding Cowboy to Image Comics in June
Berkeley, CA - 1 March 2011 – REED GUNTHER, the fun all-ages western adventure created by brothers Shane and Chris Houghton will soon be available in full color for the first time through Image Comics, beginning this June. The creators' originally self-published five-issue miniseries will then be followed by an all-new series chock full of the same wild antics fans expect from their favorite hapless cowboy.
Whether battling supernatural monsters, tracking down slimy villains, or catching a runaway train, REED GUNTHER has already won many fans over with its good-natured wit and rambunctious style. Comic Book Resources gave an enthusiastic recommendation: "If you truly want to read a comic that is good, clean fun, completely unhinged from continuity, crossovers or company agendas, then do yourself a favor and pick this book up."
"Chris and I were physically carrying new issues of REED GUNTHER to our local comic shops to be sold," said writer Shane Houghton of the brothers' decision to move to Image Comics. "We are incredibly excited to be working with Image, who can help us spread our goofy, wild adventures of cowboys and monsters to a wider audience."
"Publishing through Image allows us to release our original series in color, something we had always wanted to do," added illustrator Chris Houghton. "Watching Reed ride Sterling into the sunset is going to be that much more spectacular now in color!"
REED GUNTHER #1, a 32-page full-color all-ages western comedy for $2.99, will come galloping full speed into a comic store near you on June 1, 2011. For more information on Reed Gunther, Sterling, and all their unruly friends and foes, visit www.reedgunther.com.
Last Updated: January 24, 2022 - 11:00