Priest Volume One: A Prelude to the Deceased
By Julie Gray
June 25, 2006 - 04:14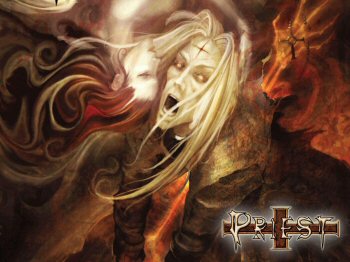 Priest
"The Darkness can be your salvation".
Priest was first published in Korea as a Manwha in 2000 by Daiwon C.I Inc. and is the story of Ivan Isaacs (Priest); a holy man with a dark secret. Having turned his back on God during a moment of complete and utter desperation, Priest agrees to sell half of his soul to the devil, Belial, so he can exact revenge for the death of his loved one, Gena. Whilst this may not seem like a fair deal, Ivan is also given super-human power and immortality as part of the pact with Belial. In return, Ivan becomes Belial's personal executioner with a mission to destroy all traces of the damned on earth.
The story is extremely compelling but contains many confusing elements. Since when did demons want to destroy their own kind? But as the story unfolds, the confusing elements seem to gel together quite nicely. Priest Volume One: A Prelude to the Deceased is a great read, not to mention the dark and furious art-work on the pages.
The art work in this Manga is very edgy and gritty. The detail is often rough and looks almost hurried but all of these things combined give the story a cold and dark, almost removed appeal. It's a little hard to distinguish exactly, but the lines drawn around Priest are hard, desperate and bold, just like the character. This offers a real connection between the storyline and the pictures and characters that make it realistic.
As the story develops, several other characters are introduced, some briefly and others as main characters telling their own part of the story. The inter-weaving of storylines and characters is also refreshing and adds pace to the flow of the Manga.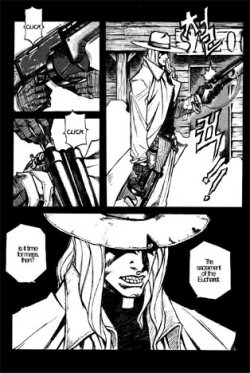 Priest Manga
Priest meets a few interesting characters in the first volume. We are introduced to Lizzie, an orphaned daughter of a gang of outlaws and renegades. We also get to meet the heretic Priest, Jarbilong, who seems to have an avid interest in Priest's dark pact with Belial. Pieces of the puzzle seem to fit together the more we are exposed to Jarbilong and his sinister plan.
Priest seems to be a man caught between a rock and a hard place. His struggle to maintain the balance between the human side and the side that has been 'touched' by the devil is the crux of the story, allowing readers to see deeper into the complex character. For all his dark deeds, we begin to see vulnerability in Priest that allows for his human characteristics to come through. There is an old saying; "There are many things worse than death". Priest is a man who has ventured beyond the normal realms of suffering and has seen what waits on the other side. It is very difficult to leave this story after the first volume. Priest is one hell (pun intended) of a good story. If horror and action genre's are your thing, Priest will satisfy on every level.
Art Work: 10/10
Story: 10/10
Overall: 10/10
Email the Author: Julie@comicbookbin.com
Last Updated: May 19, 2020 - 12:25