Warren Ellis and John Faradays series
Planetary
, is one of the best comic book series I have ever read. Quite simply, it is one of the best and one of the most consistently enjoyable and high quality series I've ever had the pleasure set eyes on and wrap my brain around.
When it ended in 2006, I was a little sad. Mainly because I wasn't sure what I would find to fill the void left behind by such a fun, clever concept and series.
And then very recently I spotted this.
Planetary 27! Fantastic.
In Planetary 27, the team go in search of a lost comrade with dazzling results.
Here is a little background for you. Planetary is a global organisation that finds information for the betterment of humanity. Anything alien or ancient that can be used to help people to live life to the full, maximise their potential or free them from hunger..they locate it and adapt it and make sure it's used to the benefit of all.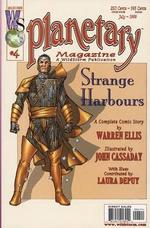 It is headed up by Elijah Snow, a man who has walked through history, a man who is almost 100 years old! He has the ability to freeze things as befits his name; he also dresses all in white. Mr Snow is a no-nonsense kind of character. You wouldn't want to cross him. As many find out to their cost. He is ably assisted by Jakita Wagner, who is impervious to most harm and very fast. She is a warrior and no mistake. And by 'drums' who is a sort of information sponge and conduit, can communicate with virtually anything and often does so through vibration, he uses drumsticks. His humour occasionally rubs Elijah up the wrong way. But you get the impression that Elijah is very fond of his sidekicks.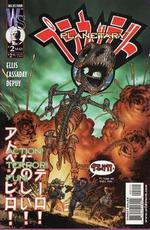 This trio go on a multitude of adventures and solve mysteries far and wide from monster islands to crime fighting spectres to ships that can fly through the 'veins ' of the universe to reality computers. And along the way we get some nods to some familar pop cultural icons from literature, the media and of course, comic books.
During the course of their many investigations, they find that there is a quartet of scientists called 'The Four', who may or may not be manipulating events for their own ends, but how? And more importantly, why would they do that? This is a conundrum that features heavily and turns up some truly surprising and horrifying answers too.
I recommend the Planetary series to anyone who likes a good mystery. I recommend it to anyone who likes a bit of science fantasy. I recommend it to anybody who likes a good chuckle every now and again. And I recommend it for anyone who likes a damn good read.
There are collected editions of the series and various specials too. You could seek out back issues, or go for the graphic novels. I can tell you this much; if you do you won't regret it.
-

Planetary Vol 01: All over the world and other stories
Paperback:

160 pages

Publisher:

Wildstorm


ISBN-10:

1563896486

ISBN-13:

978-1563896484

Product Dimensions:

25.9 x 17 x 1.2 cm
Planetary Vol 02: The Fourth Man
Paperback:

144 pages

Publisher:

Wildstorm (31 Dec 2001)

ISBN-10:

1563897644

ISBN-13:

978-1563897641

Product Dimensions:

25.4 x 16.8 x 0.8 cm