Comics / Comic Reviews / More Comics
Number 13#1
By Zak Edwards
December 23, 2012 - 11:07
I'm not sure what it is about Number 13, but it just didn't strike me the way I thought it would. Maybe me (and others) are just getting bored of post-apocalypse, maybe because there are other post-apocalypse that were more nuanced quicker, I'm not sure. But this book was just not very interesting for me.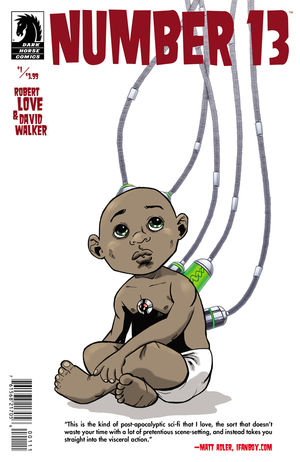 The mainstays of the genre are here: plague, increased classism between two groups of people, the one who can save everything or whatever, corporate greedy people. It's all here. The book itself has inconsistencies too, which may stem from the difference between 'muties' and 'fected' not really explained. For example, when the titular character is actually found, one of the mutated kids that come across him says they've never seen people like before, that people haven't looked like that in a while. Of course, I assume she is talking about how normal he looks, but three pages later a normal woman is seen running from some monster and no one bats an eye. The rag-tag group of kids perspective gives the book a bit of a unique voice amongst the trope minefield, a little reminiscent of The Crysalids without the Biblical heavy-handedness (Thank God). They talk and act like kids in the best way possible, coming up with stupid retorts and generally being kids. But the book is maybe too serious, it doesn't play the perspectives well, which is only compounded by the art (more on that a little later). Overall, I'm glad Dark Horse is ramping up their creator-owned content, I think its incredible of them to get into this sort of creative space, but the risk here may not pay off. Of course, first issues are in a lot of cases the worst issues. Picking up a couple more issues after the series finds its legs will surely to be enjoyable.
Speaking of inconsistencies, as much as I like the saturday morning cartoon approach, the book takes itself too seriously to be convincing. The art is great though, lots of fun and very energetic, and Robert Love's character designs are continually entertaining. These 'muties' come in all shapes and sizes, literally all shapes and sizes, so every time a character, even when they are just part of a group, shows up, they look great. The style instantly takes me back to saturday morning cartoons in the nineties and that is never a bad thing. Actually. the more I look at it, the more I like it. There is a technical precision to the art that is influenced by how those cartoons were shot and, with that frame of reference, the art is incredible. The writing though, is a different kind of nostalgia, a tired nostalgia that revisits, not innovates.
6/10 A nineties cartoon that feels like a rerun, but worth further reading.
Last Updated: May 19, 2020 - 12:25