Comics / Comic Reviews / More Comics
Number 13 #2 comics review
By Leroy Douresseaux
Jan 23, 2013 - 11:26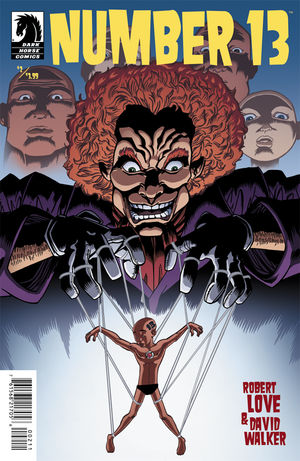 Number 13 #2 cover image
Number 13 is a new comic book series created by Robert Love and co-written with David Walker. This science fiction tale is set in a world where a plague, Monstrum Morbus (the monster plague), turned people into mutated monsters ("the fected") or killed them. Only a few humans remained ("the mune"), but they became like monsters as they slaughtered the fected and effectively ended the world. The story centers on a bionic amnesiac known as Number 13 (or Number Thirteen), who is trying to recover his past.
Number 13 #2 opens 60 years after the end of the world. Number 13's creator, the Professor, recounts the beginning of the plague and the war that followed. He continues his search for 13, his "son." Meanwhile, Mother Goose, the leader of a small "kingdom" of the fected, continues her manipulation of 13, because she hopes to use him as a defense against the mune who hunt her kind. Meanwhile, some of 13's new fected friends strike out on their own, only to fall into a trap.
THE LOWDOWN: As did the first issue, Number 13 #2 shows the influence on creator/artist Robert Love of Jack Kirby and John Byrne (himself influenced by Kirby). Love has taken his influences and created something new, something that also recalls Vaughn Bodé's post-apocalyptic-set comics.
Number 13 is like a Saturday morning cartoon, but reflecting Barack Obama-era diversity in terms of the characters and players. After reading the first issue, I was careful not to over-praise. Now, I know I'm right. Number 13 is simply fun to read. I can't get enough, and I want to spread the Robert Love all over your reading list.
POSSIBLE AUDIENCE: Readers looking for back-to-basics, fun comic books can count on Number 13.
Rating: 9 /10
Last Updated: Dec 19, 2017 - 22:52