Comics / Comic Reviews / Marvel Comics
Miss America Comics 70th Anniversary Special #1
By Andy Frisk
June 11, 2009 - 21:53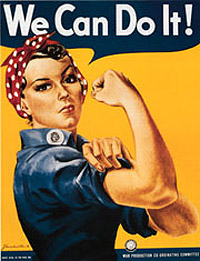 Norman Rockwell's classic Rosie image.

"Rosie the Riveter," immortalized by Norman Rockwell, was the image of the U.S. Government's motivational and propagandistic campaign during World War II to inspire young women, mostly of middle class standing, to go to work in the many airplane factories, shipyards, and converted automobile plants, which were making tanks and other mobile and motorized personnel carriers and war machines. Women across America went to work in droves, and drove war-time production, while in many ways, expanding women's opportunities, and job choices outside of the home, especially economically. For a much more in depth, and much better explanation of the "Rosie the Riveter" phenomena, click here. Suffice to say that the many "Rosie's," who went to work across America during the years of World War II, played a large part in maintaining the home front, and providing U.S. GI's with the tools necessary to defeat the Axis Powers. The adventure many "Rosies" share with Miss America in Miss America Comics 70th Anniversary Special #1 is way more exciting than any stories my late grandmother, one of the first "Rosies" to go to work in her hometown's airplane factory in the early 1940's, ever told me about her time as a riveter (with the possible exception of the time she clubbed a "fresh" male co-worker with a mechanic's wrench, to the amusement of her floor manager, and the adulation of the other "Rosies"). Nevertheless, Marvel's latest 70th Anniversary Special, showcasing Miss America's fellow "Rosies" in a fun, spunky, and patriotic light, partially makes up for the lack of development surrounding Miss America, who could have proven to be an interesting character had she stuck around longer.





Miss America, created by Otto Binder (co-creator also of Mary Marvel and Supergirl) and Al Gabriele, was a minor character compared to her Golden Age Marvel contemporaries: The Human Torch, Toro, Captain America, and Namor, The Submariner. She doesn't even appear in the three reprinted Marvel Golden Age stories, two of which focus on The Whizzer, a character with similar powers, as well as a similar costume, to DC's The Flash, who was a member of their war-time hero group, The Justice Society of America. It would have been interesting to see some reprints of Miss America's original Golden Age adventures, much like we saw some of Captain America, Namor and The Human Torch's adventures in their 70Th Anniversary Specials.

Miss America is the feature character in the main tale by Van Meter. She goes undercover, as her secret identity, Madeline Joyce, to uncover a Nazi sabotage plot at the Hogarth Shipyards, where the Navy's newest attack-transport ship, The U.S.S. Markham is being built. As Madeline, she is pretending to be working on a great "radio story" for her Uncle James, but she's really on the hunt for the saboteur. Finally exposing them, she confronts them, only to get overwhelmed when their ringleader uses a mind control device to force all the "Rosies" currently under a welder's mask (which are being radio controlled) to attack her. In the end, the "Rosies" not affected by the sabotaged mind control masks risk it all to help save her, and win the day.



Golden Age Miss America
Little is revealed about Miss America beyond the fact that she's super strong (although not on Namor's level), that she can fly, and does radio stories about various war-time topics, along with the fact that she's engaged to The Whizzer. Since she is a much lesser known character than any who have appeared in one of the 70th Anniversary Specials thus far, a little more background on her would have improved the book. Overall, even though the "Rosies" play a big part in saving the day, all of them, including the Nazi female agents, are all pretty poorly developed. In Captain America's special we were treated to a story of why Steve Rogers was such a special individual, beyond his enhanced abilities. In Namor's special, we saw his conflicting relationships with the women in his life, including his mother, and how they helped define his character. In The Human Torch's special, we witnessed him deal with bias and prejudice due to his android nature and appearance. We do not get any storytelling depth in Miss America's special.
Granted, the "Rosies" take center stage, and the tribute to them is heartfelt, but we never see any of the social conflicts that might have arisen out of such an influx of female workers into the workplace, and the effect this huge social change undoubtedly had. Unfortunately, for a book dedicated to one of the few female superheroes of the Golden Age, the opportunity to tell some interesting period stories involving the gender politics of the time is missed out on completely. Miss America is the hero of the story, even saving the guy heroes at the end, but is stereotypical in her presentation. The "Rosies," while treated with the aforementioned heartfelt sentiment, are themselves all stereotypes of the "Rosie" image. The chance to delve into the gender conflicts of their experiences is overlooked as well. Perhaps I'm asking of, and looking for way too much of this book, but I don't really think so. Some interesting topics were covered in the previous specials mentioned, so why not here?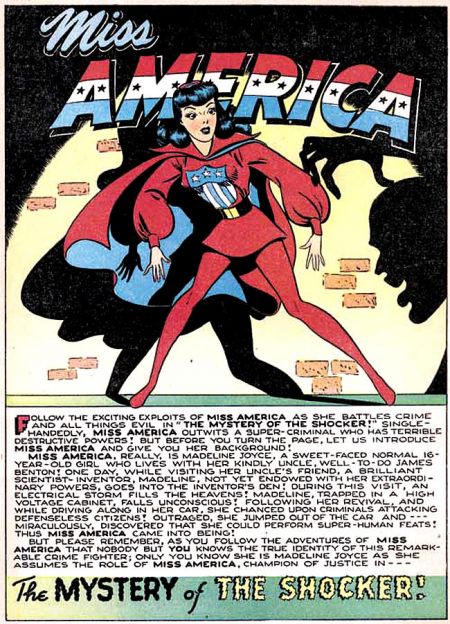 More Golden Age Miss America
We do though, get some breaking of the female superhero stereotype with McDonald's high quality artwork. This break with the stereotype is represented in McDonald's renderings of Miss America herself. While this may have been a directive of Van Meter's as the writer, McDonald still shies away from the over exaggerated, super-busty, Barbie doll figure, that pretty much is a requirement for female superhero leads. Miss America is a slight framed, modestly busted and curved woman, who definitely has more in common with the girl next door, rather than the hottest (in my opinion), but also most unrealistic (also in my opinion), Power Girl. Admittedly though, Eaglesham's cover art version of Miss America does ramp up her curves, giving her a breast enhancement and blonde hair. I won't fault him completely for his rendering of her. It was probably a marketing decision. In case you haven't heard, Power Girl has her own series now, so all us drooling dogs, I mean guys, will be checking her rack…er, I mean, ah…her section of the rack where her book is displayed. Miss America is a little behind the times though, so I guess she needed a facelift for her first cover in 60 years or so.
Overall, Miss America Comics 70th Anniversary Special #1 is a fun read, and pays tribute to an important part of the back bone of U.S. Industry during World War II, the countless "Rosie's" who kept America supplied during the war, but it isn't as strong as the first few 70th Anniversary Specials, although it could have been. Her special, and the last, Marvel Mystery Comics #1, both represent a drop in the overall quality of the specials. Hopefully, the next, focusing on the Young Allies will rebound this line.
Rating: 6 /10
Last Updated: January 24, 2022 - 11:00