Comics / Spotlight / Knowledge and Scholarship
Marvel History Part 2 - The Silver Age
By Frederic Haddox
July 19, 2008 - 07:55
Most comic historians consider the 1960's to be the silver age, but for Marvel Comics it was definitely golden. Even though the label of "Marvel" first appeared as early as 1946, the first official publication labelled "Marvel Comics" was the 1961 publication Amazing Adventures #3. [1] Although science fiction Comic books proved popular, Marvel titles suffered. With the early success of DC Comic's superhero revival in the late 50's, Marvel was inspired to follow. That was about the limit of Marvel Comics' imitation.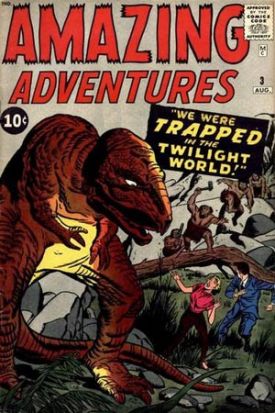 Coming from a cold-war society, Marvel Comic creators wanted their characters to redefine the superhero by eliminating pre-existing conventions. Marvel Comics under the creative drive of Stan Lee, started to feature a strong line of anti-heroes. [5] These characters didn't typically have greatness "thrust upon them," but grabbed it from the depths of their suffering. The first of such super heroes was the Fantastic Four; which debuted in 1961. The Lee and Kirby story involved a group of four characters who acquired their powers amidst a space trip "that went wrong." Marvel Comics, through its characters, combined science fiction, fantasy and sometimes horror genres.
One of the characters, known as the Thing, was permanently altered into an orange, monstrous form. Besides the DC Comics character the Martian Manhunter, who appeared in 1955, there were few characters that appeared non-humanoid. That clearly changed as Marvel Comics continued to "roll out" their characters.
In 1962,
The Hulk
and
The Amazing Spider-man
were released. The Hulk, a victim of a gamma radiation accident, was a tortured soul trapped within the body of a green behemoth. Spider-man, which was the most popular of these new heroes, was a teenager who, upon being bit by a radioactive spider, gained powers. The core of Spider-man's appeal didn't come from his powers, but rather from his alter-ego Peter Parker. Parker, being a teenager, was often filled with self-doubt. This perfectly captured the persona of the average young person during the 1960s who lived among such controversy as the civil rights movement, the destruction of segregation and the advent U.S. involvement in Vietnam.
Even though Spider-man became the figurehead of Marvel Comics, it is the X-men that remain the dominant force in Marvel diaspora. The
Uncanny X-men
, who came out the following year, presented an even more powerful platform for the complex nature of self identity. For the first time, Marvel Comics introduced the concept of mutants, people who achieved their powers genetically from birth. This group of teenagers had a "strangeness" to them that seemed to distance them from other Marvel superhero groups. The leader of the X-men was an adult named Charles Xavier who possesses a mutant power of manipulating thoughts. Since the ability to control of his powers was self-taught, Xavier acts as a mentor and teacher to the young mutants.
Their arch rival was another mutant named Magneto, whose was embittered by those who hated him because he was different. Years later, Marvel Comics added more depth to Magneto's past by including that he spent time as a prisoner in a Nazi concentration camp. Unfortunately, most of the situations stemming from confrontations with the ignorant didn't start to occur until the mid-1970s.
The Avengers
contained a patchwork of characters including Ant-man, Thor, Wasp, Iron Man and briefly the Hulk. The fourth issue marked the return of Captain America to the Silver Age.
Daredevil
, a blind superhero seemed to be another anomaly. Just as DC Comics super heroes formed an industry archetype (handsome, perfect, and mentally stable), Marvel Comics characters formed an archetype of their own. Most of these early characters possess similarities.
Most of these stories involved very intelligent people such as Reed Richards (Fantastic Four), Peter Parker (Spider-man), Hank McCoy (X-men), Bruce Banner (The Hulk) and Henry Pym (Avengers). Most character's suffered an accident of some sort involving a little-known circumstance (radiation being the foremost culprit). Marvel characters were clumsy, awkward, sensitive and prone to becoming angry. Thus these traits made Marvel Character more relative to the psyche of modern people.
Equally worthy of mention are other colorful characters such as the Silver Surfer. First appearing in the Fantastic Four, the Silver Surfer was an intergalactic traveller. Another character that came out of a Fantastic Four story was the Black Panther. Being the first character of Negroid descent, The Black Panther was an African prince named T'challa. He would not be the last African superhero to emerge from Marvel Comics. X-Men #6 marked the Silver Age debut of The Submariner. He, the Silver Surfer and Iron Man were to have individual titles in 1968.
Stan Lee perpetuated a different routine for making comic books that would be called the "Marvel Method." Traditionally a writer would separately draft a script and then an artist would render drawings to accommodate it. Under Lee's direction, an artist and a writer would together oversee the art and then the writing would be added to it. [1] Under this method, artists and writers would be in greater relation with each other.
First Generation Animation
A superhero animation explosion occurred in the mid 1960's. By 1966 several titles became animated under a small Canadian company by the name of Grantray Lawrence. The company, founded by Grant Simmons, Ray Patterson and Robert Lawrence, had little money and limited budget. Because of Canadian law, broadcasting regulation guaranteed that animation by Grantray Lawrence would be aired continuously on Canadian television. [6] This allowed the company to produce low budget animation whose quality lacked little discretion.
The company came out with six Marvel Comic titles in 1966 alone. These included Thor, Hulk, Captain America, Iron Man, Submariner and The Marvel variety show. [7] At times these cartoons look as though images were cut directly out of comic pages, pasted unto cells and added with voice. Only the 1967 production of Spider-man stood out. This was mainly due to the theme song, which to this day has a strong cult following. The following year Grantray Lawrence Productions went bankrupt and Krantz Productions took over the series. In New York, a young Ralph Bakshi, the famed underground animator, was put in charge of the series. [7] Bakshi gave the stories a slightly darker façade and focused more on Peter Parker. Hanna Barbara Animation Studios released The Fantastic Four.
References
1. ^Wikepedia, the free encylopedia: "Marvel Comics"
5. ^The Journal of Popular Culture (June 2007) "'With Great Power Comes Great Responsibility': Cold War Culture and the Birth of Marvel Comics," Genter, Robert
6. ^Wikepedia, the free encylopedia: "GrantRay Lawrence"
7. ^International Catalogue of Super heroes: "Cartoons based on Marvel Characters"
Last Updated: August 31, 2023 - 08:12