Comics / Comic Reviews / DC Comics
Justice League of America #51
By Hervé St-Louis
December 30, 2010 - 11:32
The Justice League, trapped within a bubble in Washington DC, is trying to defeat the Crime Syndicate while other heroes outside are trying to come in but without any luck. As Omega, the new villain establishes his power, is Jade, the latest justice League recruit in danger of falling under his spell, or will Supergirl beat her to the punch?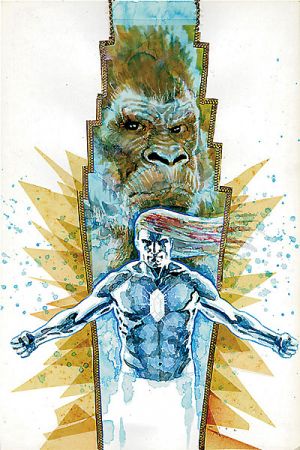 A comic book cover makes all the difference. Sometimes, you're faced with a comic book with a cool story but won't pick up the book and find out it was worth it because the cover didn't sell you the story. This is one such cover. Omega's design is not great looking. It's rather poor. There are no point of focus, no iconic parts to his costume to make more than another generic super villain with a monster's face. Based on the cover alone, I took would never had read the story. Bagley is a great artist. I've read complaints about his work where people say he's more suited for a Marvel comic book than a DC comics. I don't buy that. His work within was strong and decent. It's full of action, as is all of his work. But a character designer he is not.
Robinson pads a fun story here where he continues to push this junior Justice League to the next level, proving they are not just replacements for the "real" Justice League. What Robinson has for him, what he's always had was a thorough understanding of DC Comics' history and where each character fits in. For example, I like how Blue Jay assumes no one remembers him and his time with the Justice League. It shows his inferiority complex, while at the same time allowing the character to redeem his worth, by taking out Owlman at the first opportunity. This is the same Owlman who is an exact match for Batman and gave the second Batman, Richard Grayson a lot of trouble. Robinson's run on this series has not been liked by all. It's been criticized severely. Coupled with the Justice League mini-series he wrote last year that helped "destroy" Green Arrow and Arsenal, he has a lot to prove. But this is the writer who wrote Starman and the Golden Age mini-series. Before writing him off, I'll give him more benefit of the doubt. I think readers should do the same.
Rating: 8 /10
Last Updated: January 24, 2022 - 11:00