Webcomics / Johnny Bullet Comic
Johnny Bullet #46 Comic
By Hervé St-Louis
Oct 26, 2015 - 0:03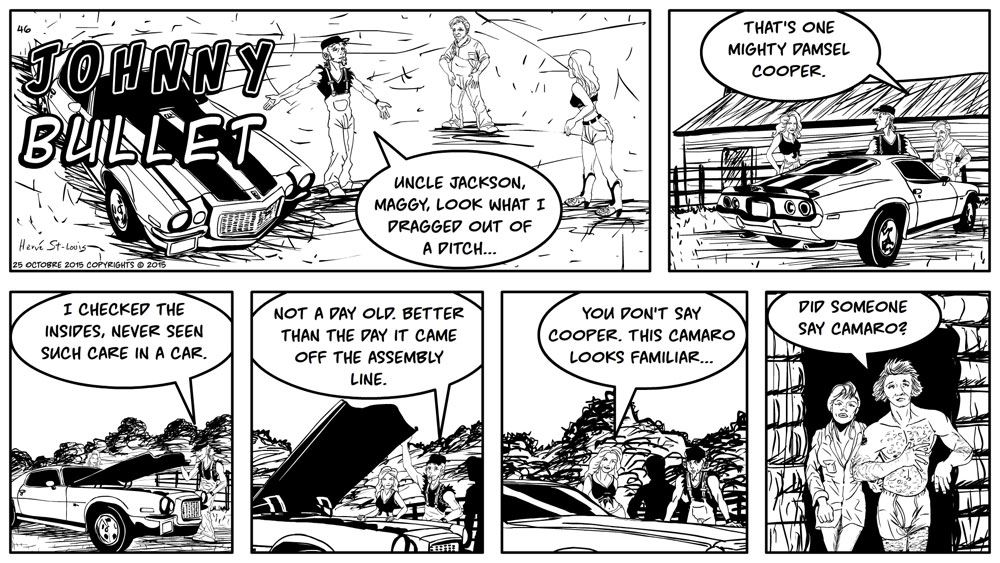 Subscribe to Johnny Bullet through RSS
Invest in Johnny Bullet through Patreon


Subscribe to the Johnny Bullet Newsletter
Email me!

What a day! I posted this week's page just in time, or minutes after midnight. Today's page is important to me because it introduces the third arc of Johnny Bullet. After introducing the character in the first chapter, and drag racing in the second, this one introduces the girls. Yes, girls. This has been a frequent demand from fans since Johnny Bullet started. Many of you wanted to see more girls since this comic is about fast cars. You'll see girls in the next few pages, but on my own terms = evil grin =
I changed the Patreon funding method. Instead of asking you to pay for every page, you can now fund me on a monthly basis. Apparently this is how most web comics are funded. I didn't know. So I made the changes. It should be easier to
help me out on Patreon
.
Speaking of Patreon, my Patreon patrons can see bigger versions of the panels in today's page. I was so enamoured with drawing the Camaro that I forgot that I'd have to leave enough space for the characters. This week, we see the rest of the Leduc clan. I really like them and they'll play a bigger role in the current chapter of Johnny Bullet.
See you next Sunday, November 1st for Johnny Bullet's first online anniversary!
Last Updated: Sep 3, 2018 - 20:08
Join the discussion: