Webcomics / Johnny Bullet Comic
Johnny Bullet #4 Comic
By Hervé St-Louis
November 23, 2014 - 10:30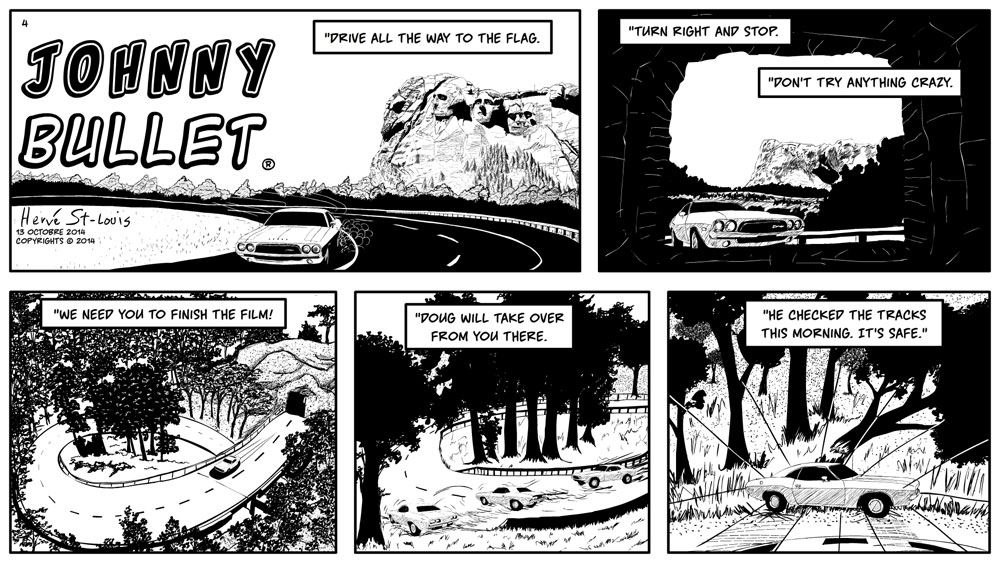 Subscribe to Johnny Bullet through RSS
Patreon


Subscribe to the Johnny Bullet Newsletter
Email me!
Written by : Hervé St-Louis
Pencilled by : Hervé St-Louis
Inked by : Hervé St-Louis
Letterered by : Hervé St-Louis

It took me over a month to draw this page. It was not procrastination. It just took that long. I'm getting faster, as I have been on target, drawing one page per week for over a month. Since, I've gotten better at committing to these pages. I plan better hand have a better handling of how to prepare a page. I know that I need dialogues, so I can at least start with that to break a blank page. Since the Johnny Bullet logo is on every page, they are kind of not totally blank. The other thing I do is work on the panels. I change the size of the boxes every week. Another trick which has helped is just creating the layout for the entire strip instead of focusing on one panel at a time.
Finally, the major motivation to being on time has been my drive to actually share Johnny Bullet with you. This strip needs to get out of my mind and into people's instead. By the way, if you haven't done so yet, check out
Leroy Douresseau's

Grumble
. It's the other Web comic at the Bin for now. It's totally different. It's probably closer to Vertigo Comics. Hum, who said Johnny Bullet is not like Vertigo Comics? It's not like I've said what the comic strip is about yet! Oh yeah, for those of you who don't know, Vertigo Comics is the mature imprint from DC Comics with more fantasy and horror themes. Thank you for reading.
Last Updated: August 4, 2023 - 09:22
Join the discussion: