Toys / Comics to Toys / DCDirect
JSA Series 1 – Larger Than Life Action Figures
By Hervé St-Louis
August 23, 2008 - 08:12
DC Direct has announced that it will release the first series of a new line of JSA action figures related to the new Justice Society of America comic book series released by DC Comics, last year. Of course, because Alex Ross painted the covers of the series, the action figures will also be modelled on Alex Ross' work. The first characters spotlighted will be the Golden Age Green Lantern, the Golden Age Flash, the Sandman and Starman. At 7.5 inches, these action figures will be much larger than any other Justice Society action figure released in the past, and more in line with the scales used by DC Direct since 2005.


While the
Golden Age Flash
and Green Lantern have both been rendered twice as action figures by DC Direct, it will be the first time that action figures of the current Sandman (Sandy Hawkins) and the current Starman (Thom Kallor) are available. There have been two
Sandman action figures
in the past by DC Direct about Hawkins' predecessor, Wesley Dodds released with two different paint schemes. There has also been two Starman action figures by DC Direct about the
Golden Age Starman – Ted Knight
, and his son
Jack Knight
.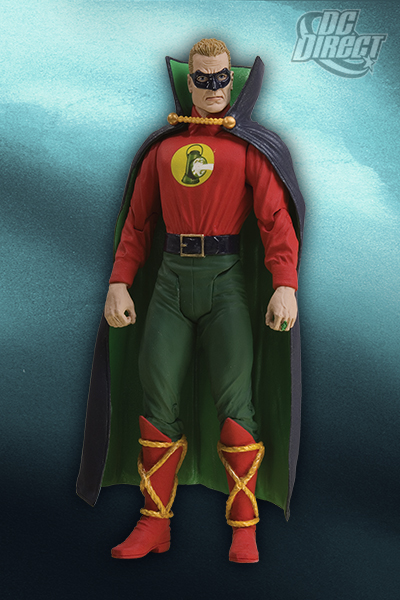 Golden Age Green Lantern
The cases of Sandman and Starman bring out an interesting question about the commitment of DC Direct and parent company DC Comics about the work of critically acclaimed creators and the protection of their trademarks. Although the
Sandman
was owned by DC Comics, the version created by writer Neil Gaiman in 1989 was a not a super hero and was intended at the time as the definitive Sandman from DC Comics. DC Direct has also rendered this character, also known as Dream as an action figure, several times. Although many readers wanted it, Sandy Hawkins has not been called Sandman until recently out of concern for Neil Gaiman's version.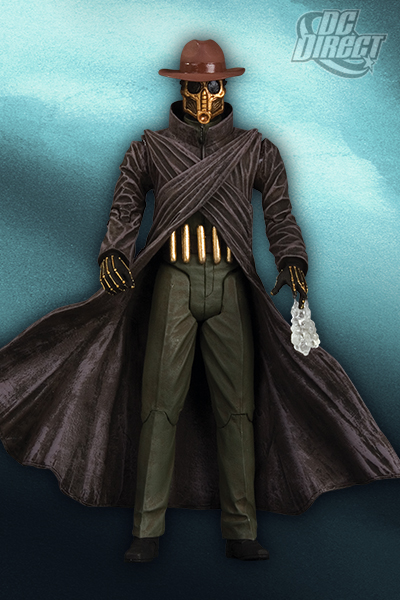 Sandman
The same is true of Starman. After James Robinson created the new
Starman
comic book series and it ended publishing, the character of Jack Knight was not to be used in any story unless written by creator Robinson. So for years, two of the most important legacies at DC Comics, Starman and Sandman were tied up in publishing limbo because latter creators had created new versions of the characters deemed more important than the original and their sidekicks.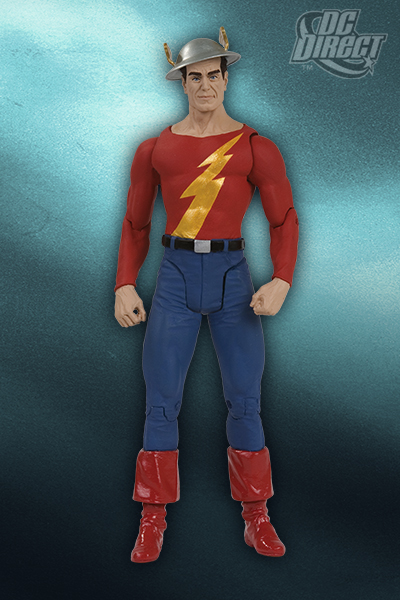 Golden Age Flash
Nevertheless, several writers at DC Comics, have been chipping and borrowing from the Gaiman and Robinson's versions of Sandman and Starman to spruce up new versions of the characters, safe for publishing and merchandising! Hence, Stargirl, originally known as Star Spangle Kid, borrowed the power staff of Jack Knight. As for Sandy Hawkins, his new powers were partly inspired from Gaiman's Sandman.
I welcome the new versions of Sandman and Starman as they add up to the strong legacy of characters from DC Comics.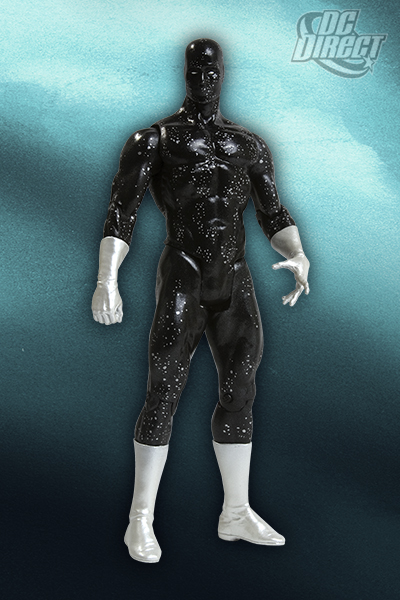 Starman
Now that the legacies of Sandman and Starman are re-established in the regular DC Comics' universe, we have to deal with a most pressing issue which is the scale of the action figures. If you have collected Justice Society action figures from DC Direct since 2000, like I have, you'll notice that they are not compatible with the new products from DC Direct. Here the vendor only repeats a pattern they have used for years to the dismay of many collectors. They are not interested in making all their lines and characters compatible with one another, unlike Marvel Toys' Marvel Legend series. The more incongruous the action figures can be, the more they seem to enjoy it. Let's face it. If you already own the first Golden Age Green Lantern and Flash action figures, why would you buy new ones, unless DC Comics made it hard for all those toys to look good in a display together?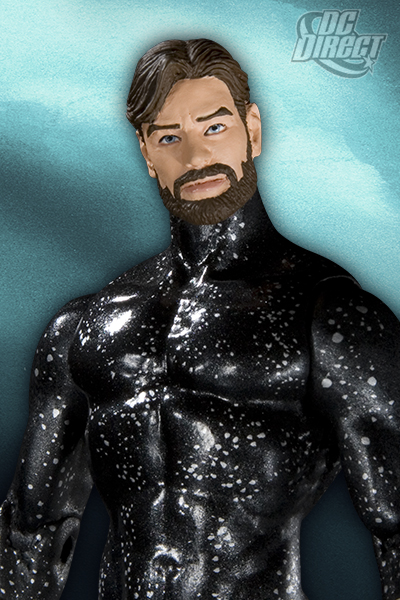 Starman without mask
It's hard to argue about the quality and beauty of these new action figures, but it's hard to accept that that other action figures, which will never be recreated by DC Direct, like the
Golden Age Hourman
and the
Golden Age Dr. Mid-nite
will never look good next to a display of the current Justice Society.
Last Updated: August 31, 2023 - 08:12