Comics / Spotlight / Progressive Panels
Iron Siege #1
By Andy Frisk
February 2, 2011 - 14:09
Ever since I was a kid and watched films like Where Eagles Dare (1968) on late night TV with my Dad, I've had an interest in well written, drawn, filmed, or directed World War II historical fiction. After playing the classic first person shooter Wolfenstein (remember Mecha Hitler…how much fun was it blowing him to bits!), the realm of supernatural/sci-fi based World War II fiction became a fascination. Often times I've wrestled with the validity of there even being such a type of fiction be it video game, novel, comic book, or film based. The horrors that the Nazis inflicted upon millions and the incredible sacrifice that was made by an entire generation of men and women to bring the horror to and end was a sufficient enough narrative in and of itself on this terrifically tragic war and its evils. Later on though, I realized that fiction, video games, and films of this type of fictionalized World War II story did keep alive the memory of this war and its villains as cautionary tales. Hopefully, this type of story would introduce kids (who really have almost no sense of history) to this defining period of modern history. They'd possibly be inspired to research and learn about the time period on their own and hopefully learn to recognize the destructive tendencies of extreme far right bigotry. Well, at least I can hope. The superb Time Bomb from Radical Publications (which I picked for mini-series of the year for 2010) was one example of this type of fiction. Iron Siege from IDW Publications is another.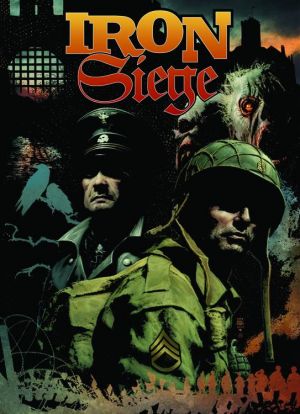 Set in southern France in 1944 after D-Day, Iron Siege is the tale of the 101st Airborne and their mission behind enemy lines to capture Colonel Karl Wilhelm Scherer of the Waffen-SS. Scherer has information on a planned December German offensive in the Ardennes. The 101st manage to capture the Colonel and some of his men, but when they run into what can only be described as some type of feral ghouls with incredibly sharp teeth and extraordinary strength while retreating back to Allied lines with the Colonel, the mission takes a strange turn. Some of the local villagers have held up in a local castle for protection from the creatures that are described as "…our fellow villagers…before something came from the forest and sickened them…"
Topically, Iron Siege is might just end up being another zombie monster mash, but its World War II setting sets it apart from what is becoming an oversaturation of zombie horror that we are about to start drowning in pop culturally. Zombies are almost as prevalent as vampires these days… Iron Siege is packed with enough detail, atmosphere, and briefly, but capably, developed characters to be much more engaging that most of the zombie horror ilk that clogs the stands at your local comic shop. The new 101st C.O. Sgt. Jack Delacey is described as "…probably in over his head, but he'd never let you know it." As his foil, Colonel Scherer is much more calm and confident, even as Delacey's prisoner. An interesting tension that hints at a mutual respect between the two is subtly touched upon as Iron Siege #1, "Bad Company" progresses. The combination of the tension between Delacey, his troops, Scherer and his captured troops, and the horror that is bearing down on them combine to form the basis for a great WWII historical/horror adventure.
Artist Trevor Goring does an excellent job bringing to life a very accurate image of WWII tech, hardware, military uniforms, and vehicles. With his reproduction of Scherer's Mercedes and the 101st's Thompson sub machine guns, Goring manages to leave no historical detail out. The oversize format Iron Siege in printed on really allows the reader to enjoy the artwork on a larger scale, even if the issue can't be bagged and boarded like regular sized comics can (suppliers of bags and boards really need to get started on manufacturing some oversized bags and boards—looks like the format isn't going away…) Colorist Grant Goleash's dark shadowing and minimal use of color serves to not only create a foreboding atmosphere of horror and war time terror, it manages to conjure a faded and aged feel reminiscent of what Steven Spielberg created on film for his World War II masterpiece film, Saving Private Ryan.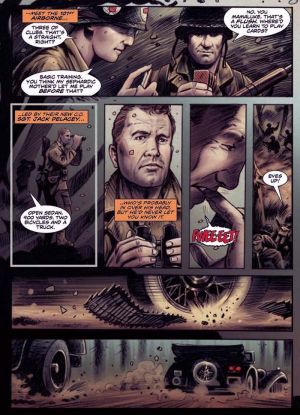 While Iron Siege is definitely no Saving Private Ryan, it is another entry into the popular and, in my opinion, important genre of WWII era based historical fiction. Whether the works classified in this categorical genre are good, bad, or in between storytelling and execution wise (and Iron Siege is definitely good), these types of fictions are always worth at least checking out and supporting in an effort to keep the horrors of Nazism from fading from the collective memory of mankind.


Rating: 10 /10
Last Updated: August 31, 2023 - 08:12