Iron Man Anime
By Hervé St-Louis
April 21, 2012 - 23:28
Just about 20 years ago, Marvel Entertainment through advertising agency Sunbow entered in a partnership with Japanese animation studios to create animated classics such as
G.I. Joes
,
The Transformers
,
Spider-man and his Amazing Friends
,
The Incredible Hulk
and more. These television series defined an entire generation of kids and made them fans for each of these properties and in the case of the comic book adaptations, opened up a whole world of comic books to kids. With the four series created by Marvel in partnership with Japanese Animation Madhouse, there's a chance that history will repeat itself. Iron Man Anime is the first series created in collaboration with Japan. It's the story of Tony Stark, re-imagined for Japanese viewers, who travels to Japan to introduce a new research facility called the Arc. But Zodiac, a criminal cartel lurks nearby and wants to takeover Stark' intellectual property for its own nefarious objectives. Will they succeed?
This twelve episode series was the first of the four Marvel Anime series. Other series include
X-Men Anime
,
Wolverine
and
Blade
. I watched all twelve episodes in one sitting and I have to say I'm hooked. Tony Stark wants to retire from being Iron Man and has selected a new cadre of operators to dun a new Iron Man armour design. The Japanese public is doubtful of Tony Stark and sees him as a typical cocky American who lacks humility and understanding of Japan's culture. Tabloid reporter Akie desperately wants an interview opportunity with Tony Stark and chases him at every turn.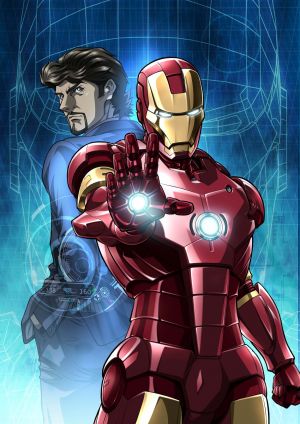 The Way Madhouse reinterpreted Iron Man is standard with his usual portrayal as a playboy who likes beautiful cars but is also a genius and with a great heroic vibe. Throughout the series, Stark's past as a weapon manufacturer is continually contrasted and with his more peaceful present where he tries to do good with Iron Man. The story is a bit melodramatic with Tony Stark always questioning himself and promising to do good as per his inspiration Ho Yinsen wanted. I find Ho Yinsen who comes back as a villain in the story less than inspiring and charming even in the flashback spots where he was a peace lunatic. There was nothing Zen about his approach to peace.
But of course what everyone really care about is the animation. And it rock. A decade ago, it used to be common to criticize Japanese animators and say that while they were great at traditional 2D animation that they sucked at 3D or what some refer to as CGI (I'm a purist, I prefer the term 3D). Well Iron Man and the various mecha featured in this series sport cool toon shaders that are perfectly well integrated with the rest of the 2D animation, to the extent that they now put to shame North American studios. Although I will say that Iron Man's motion felt a bit constrained and not as loose as I would have liked. The rest of the animation uses the best tricks of the anime trade to make people feel like everything is fully animated and moving all at once, while saving on the cel count at every turn. Only the Japanese do traditional animation like that. The styling of the characters will remind viewers of
Crying Freeman
or
Batman: Gotham Knight
with the hyper realistic character design that lends to less motion and more stylization. Other anime looks can be more fluid than that. Tony Stark's design was boyish but worked. I didn't like the hairdo of the girls in this series and wish we had seen more of Pepper Potts. Still the series design and animation were great and the story opened a new sub continuity that should definitely be explored in the comics. I like the whole Japanese angle on Tony Stark and Iron Man's world. If you don't own it yet, go buy it!
Extras
Re-Imagining Iron Man explores the plot and themes of the anime series.
21st Century Hero: The Technology of Iron Man introduces fans to Tony Stark's high-tech suits and gadgets.
Special Cross Talk round table discussion with the creators of the Iron Man and Wolverine anime series.
Voicing Tony Stark, an interview with Japanese actor, Keiji Fujiwara.
Rating: 9 /10
Last Updated: February 5, 2023 - 09:06