In Deep: Peter David's Aquaman (Part 3 of 5)
By Josh Dean
August 7, 2011 - 09:51
Aquaman (1994) #13-24

With a foundation for epic fantasy conflict created in the Atlantis Chronicles and Aquaman firmly established in the 90s milieu of badass superheroes, David took the second year of his ongoing series to sneak in a sci-fi/fantasy epic before the reader realized it. David ended his first year with some soap opera by having Dolphin and Aquaman get interrupted mid-coitus by Mera (Aquaman's wife). Picking up from there, let's see where David takes us.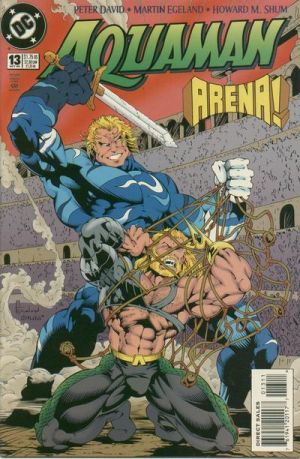 This second year of the ongoing is the first to really delve into continuity that David himself didn't create. Unfortunately, there is no real attempt to explain it either. The first two issues consist of Aquaman being taken to an alternate dimension where Thanatos (who?) is holding Mera and AJ (another son of Aquaman, probably) in his thrall. David never really explains who Thanatos is or why he is wearing the "ocean camouflage" outfit that was Aquaman's at one time. Issue 13 ends with Thanatos escaping the dimension of evil and setting about to ruin Aquaman's good name.
This year, the interrupting event of the narrative is the company mandated Underworld Unleashed crossover. Once again, David pretty much decides to do things his way (although later issues would make good use of the changes wrought upon some classic water based villains like the Shark and Ocean Master). As Aquaman tries to escape his imprisonment, Major Disaster gets a pretty cool makeover that I enjoyed. Instead of creating natural disasters, he can set off a series of minor events that result in large scale disasters. Using only a bag of marbles he is able to crash a passenger plane into a nuclear sub. I have never seen Disaster portrayed this way before or since but it was a worthwhile change.
Of course, the entire Rube Goldberg device that Disaster sets off is meant to kill Aquaman but, since Thanatos is pretending to be Aquaman, well…you see where this is going. The little side-trip story basically reminds us that Mera is still alive out there somewhere and it makes Aquaman appear to be an enemy of the world for a few issues. This leads to a revenue boosting conflict with the Justice League in issue 16 (the highlight of which is Aquaman interacting with Guy Gardner in his ridiculous "warrior" phase) where his old teammates come to check out why a guy claiming to be Aquaman declared war on the surface world.
These little nods to the greater DCU act as more of a cul de sac than an integral part of the story. The real magic is happening in the ongoing subplot of the people of Poseidonis. Koryak and Vulko (see part 2) are leading the people of Atlantis to a new life since their city is dangerously unstable. They awaken Kordax (a major baddie from the
Atlantis Chronicles
) and become enslaved. They take over Tritonis (the city inhabited by mer-people) and crucify the king.
With his people out of the way, Aquaman discovers that Poseidonis somehow ended up on top of the meteor that sank it in the first place (this contradicts several earlier plot points). Aquaman makes contact with an alien entity inside the ship and discovers that the ancestors of his people are aliens. And the aliens are on their way back to conquer the Earth.
Suddenly, the second year takes a very insular turn with Aquaman gathering together the five lost cities of Atlantis to do battle against the alien invasion. The covers become increasingly generic (lots of shots of Aquaman swimming with no indication on the story within) and I imagine this year was a hard sell in general. Even with Ocean Master coming back for a couple of issues, there are very few recognizable faces in this run. The different cities represent different aspects of Atlantis so Aquaman has to deal with technology, spirituality, magic and war. Since the story moves along at such a quick pace, the epic scope of it gets a little lost.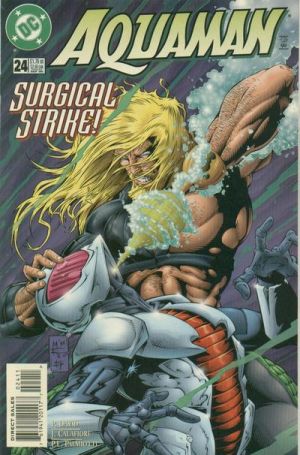 At this point, Jim Calafiore is handling most of the art and doing a fine job with the various Atlantean races and aliens. Not to sound precious but his art has a very flowing quality in this series that makes sense with all the underwater action. Egeland steps back in on occasion (mostly when Ocean Master or another superheroic element is needed) but the two divide their duties here well.
Atlan (Aquaman's father) and Aqualad (thought dead since about issue 8) make return appearances. By the end of this second year, Aquaman has gathered the Sea Devils, Tsunami, Deep Blue, Dolphin, Aqualad, Arion and Power Girl into a sort of Aquaman all-stars to help battle off the alien invasion. Not to mention the five lost cities he has united. Nowadays, these kinds of storylines would cross over into 20 titles and be a big summer event. David handles it all deftly in house.
Of some note, there was (apparently) an
Aquaman
series that was released between
The Atlantis Chronicles
and
Time and Tide
that had no relation to David's writing. During this run up to the alien invasion, there is an offhand comment made about an Aquaman from an alternate timeline visiting one of the lost cities of Atlantis recently that kind of wiped away that entire series as being not in continuity. For a series so beholden to the past, there are literally no editorial boxes used to explain passing references. Either you know your Aqua-history or you can pick it up from context clues. Talk about getting thrown in the deep end.
Honestly, this was the year I quit collecting comics the first time around so I didn't stick around to see David's master plan unfold. This second year of the run reads like a really rushed and breathless Return of the Jedi. Next installment, I will talk about issue 25 (the big climax to the epic storyline), how Final Night and the Millennium Giants are shoved into the run and the underlying Biblical connotations of the entire series.
Last Updated: March 10, 2022 - 22:00