Comics / Comic Reviews / More Comics
Hoax Hunters: #0
By Andy Frisk
March 21, 2012 - 20:13
Hoax Hunters is the name of a reality television series, not unlike Myth Busters, that is dedicated to debunking and disproving the existence of aliens, monsters, cutting edge science, and all other sorts of paranormal activities. They review viewer submitted phenomena, investigate it, and then report back to the viewing public the perpetration of what they obviously discover to be a hoax. It's the inverse of Conspiracy Theory with Jesse Ventura and Brad Meltzer's Decoded. Except that its three hosts are all paranormally gifted individuals themselves who eliminate, or recruit, the paranormals and paranormal activities they investigate, which are very real. The ultimate propaganda, investigative, cover-up, and paranormal termination unit all rolled into one, Hoax Hunters is not only a brilliant fictional organization, it's a brilliant concept for a comic book. Hoax Hunters is the anti-X-Files, and is therefore much more edgy, contemporary in theme, and once again, downright brilliant.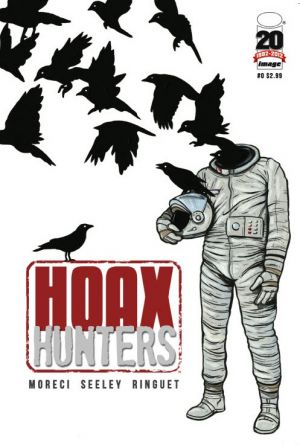 Image Comics is now, quite simply, co-equal with DC Comics' Vertigo imprint in integrity and publishing guts for allowing creators to come up with and publish books like this,
The Mission
, and all of Jonathan Hickman's indie stuff. One will not find a more interesting collection of mainstream comics worth reading outside of Image Comics' and Vertigo's books. In fact, for all of those of you out there who are sick of mega-events designed with sales in mind, line re-launches that ruin your favorite heroes, and end up being the same old storyline regurgitated over and over, check out
Hoax Hunters
,
Manhattan Projects
, and the slate of new books from Vertigo. You won't be disappointed.
The kind of irony perpetuated in
Hoax Hunters
, the sly commentary on media manipulation, and the simple uniqueness of the story's first tale, which introduces a new team member…who is a scarecrow spacesuit/man (you just have to read it to get it-and it makes sense), is an example of the type intelligent storytelling that the Big Two pretty much stay away from for the most part in their mainstream superhero comics (albeit with a few exceptions). Read this book.
Rating: 9.5 /10
Last Updated: May 19, 2020 - 12:25