Help Me Find Iron Man
By Hervé St-Louis
May 29, 2008 - 23:04
I and several friends have been looking for Iron Man movie action figures following the successful release of Marvel Entertainment's first movie the Iron Man on May 2, 2008. We've searched the aisles of our favourite stores, large surface stores, and could not find them. If you know where these action figures are, can you help?


I've owned several Iron Man action figures in the past. I've got several from Marvel Legends, Marvel Select and even the first release of the
Ultimate Iron Man
action figure from Hasbro, in early 2007. Hasbro, the current licence owner of the
Iron Man
film and other Marvel Comics' properties has released three specific lines of toys for the
Iron Man
movie that will appeal to specific age groups. For children, Hasbro released the Role Play line with Iron Man masks and toy guns. It has also release a small non posable action figure line called the Iron Man Super Hero Squad Face off. Finally, there is the real meat, the stuff we're all looking for, the actual action figures based on the
Iron Man
film.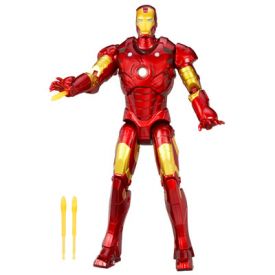 Repulsor Iron Man
Hasbro has release relatively few
Iron Man
film-based action figures. There are four Iron Man action figures, two Iron Mongers and one Titanium Man action figure. Each of the separate instances of the Iron Man action figures has armour. They are also known as "Mark," just like in the comic books.
My favourite would of course be the Iron Man Mark 3, which is the final one Iron Man uses in the film to fight Iron Monger. I don't like the repulsor arm-mounted cannon that comes with the toy. Of course Hasbro added it for children and not adult collectors who may find this apparatus cheesy. The other problem I have with this action figure would be the colour of the armour. A brighter red would look better.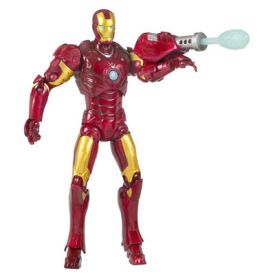 Iron Man Mark 3
The Iron Man prototype action figure is the one to get if you want to see Tony Stark, Iron Man's alter ego, under the mask. It comes with removable forearms and a removable helmet. Hasbro did a good shot of this action figure, but the sculpting on the face seems to be soft and not detailed enough.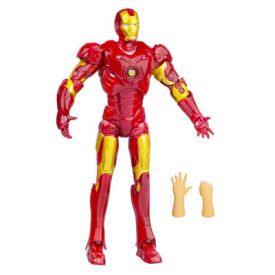 Prototype Iron Man
The Iron Man Mark 2 action figure is a silver version of the Iron Man armour before he had one of his robots paints it in red and gold. Because I can't find this toy anywhere, I can't tell if it's a repaint of the Iron Man Mark 3 toy. However, besides a few cosmetic changes, it sure looks like it is. The cannons keep making this action figure bulky, and not look as good overall. I understand that a large gadget has to be created to allow kids to shoot a missile from it, but it looks clunky and doesn't fit the trim look of the Iron Man action figure, based on the film. Other Iron Man action figures, in the past, like
War Machine
did look good with extra apparatus, but that is because they were already bulkier.
Iron Man Mark 2
I like the original Mark 1 Iron Man action figure. Sure, he's big and not streamlined, but he just feels like a good old smash and fun toy. Again, I can't tell because I have yet to see one of these live, but it seems like the paint job has a rusty feel, which is cool. I'd like the helmet to be removable, but I'm not sure if it can.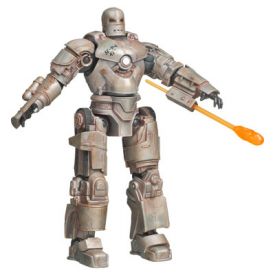 Iron Man Mark 1
There are two Iron Monger action figures, one with that reveals Obadiah Stane, Tony Stark's former ally and staunch enemy. The other one comes with a action featured arm that mimics a punch. I usually stay away from such toys as they are mostly for kids and means that quality of the sculpt and paint were sacrificed to make the toy more sturdy to repeated motion and playing. However, the version with the revealed Stane in the cockpit is more what I would be looking for in an arch villain.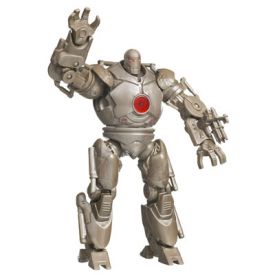 Iron Monger with super fist-smashing action
Hasbro created a useless action figure called the Titanium Man. It didn't appear in the film, although there seems to be suggestions it was supposed to. As it stands it's a useless action figure, although it looks good.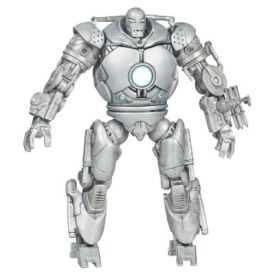 Iron Monger with Obadiah Staner
The only Iron Man action figure that seems to be available is the 10 inch Repulsor Iron Man that comes with motion-activated lyrics. In the office, this figure has been fun to have around, although it sounds like a bad Mr. T copycat. This action figure looks good, but won't fit with the other Iron Man toys from the film. It has less of a cool factor because of its size, but then again, it might be the perfect toy for adult collectors who like to display their toys on their desks at work.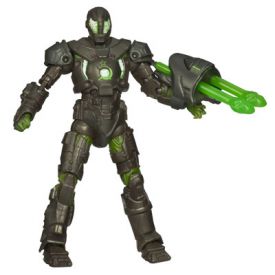 Titanium Man
Perhaps Hasbro was taken by surprise by the popularity of the
Iron Man
film. I wonder if anything else is coming from Hasbro related to the film. Before I head to the auction sites and Web stores to find the Mark 3 Iron Man action figure, I will wait and try to find it locally. I feel it would be too depressing to buy a supposedly mass marketed toy at inflated prices or from a toy poacher. But if nothing else work, I will hit my usual online toy hunting path!
Last Updated: January 24, 2022 - 11:00