Iron Man Is Marvel's Shining Knight
By Hervé St-Louis
May 2, 2008 - 07:55
Prodigy inventor Tony Stark, the inheritor of his father's arms development manufacturer, goes to Afghanistan to test some weapons for the American military. However, his escorts are killed and he is captured by Afghani terrorists. It's up to a muck up armour built in the caverns and mountains. Upon his return to America, Stark has a change of heart and wants to become Iron Man, a hero with metallic armour that can save the world and stop wars. But before Stark can leave a legacy of peace, one of his weapons is used against him. Can Tony Stark stop his enemies from using his technology?
Iron Man the Movie is, of course, based on the comic book series created by Marvel Comics in
Tales of Suspense #39
in 1963. The film is the first of a series of films produced by Marvel Entertainment and distributed by Paramount. Marvel obtained financing in 2006 for the production of films where it would be a main partner. Currently Marvel Entertainment is banking its entire future on the success of Iron Man, the upcoming Incredible Hulk film and more. If these films don't succeed, Marvel Entertainment will be at risk. Is Iron Man the "knight in shining armour" that can save Marvel?
It is. The Iron Avenger's first non animated film is an instant classic. Casting Robert Downey Jr. as Tony Stark was a risk for Marvel Entertainment. The actor has needed a comeback to Hollywood after personal issues which seem eerily similar to Stark's own demons. Directed by Jon Favreau, Iron Man is funny, with a predictable plot, and few action scenes. Yet, it's a smart movie that will appeal to both long time Iron Man readers and people who are unfamiliar with what many consider a B Marvel Comics character.
Iron Man succeeds mainly by being a film that doesn't take itself too seriously and is filled with memorable one liners and situations that will have people chuckling like hyenas throughout the film. Instead of focusing on obscure comic book lore and a complicated back story, Iron Man is approachable and makes fun of a series of comic book conventions. It is by no surprise that I heard a woman in the audience, as the film was ending scream "best comic book movie ever." Iron Man bridges the gap between hardcore fans and the public easily and makes all of us relate to Tony Stark and his personal assistant Pepper Potts.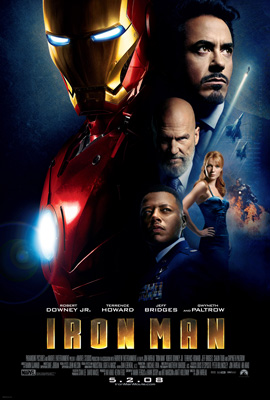 I had serious doubts about Gwyneth Paltrow at first. Her acting range, to my opinion, has always been limited. However, here, playing against Downey Jr. she shines just enough to not draw enough negative attention to herself. She's hardly a memorable love interest and seems more like a clueless secretary not at ease with technology than a professional executive assistant. The real gem of this film is of course Downey who singlehandedly makes Iron Man, a man many would consider a jerk, a strong character.
The plot, of course, is not complex and there were enough Iron Man scenes for my taste. It was as complicated as the Fantastic Four films. But as anyone who sees this film and sticks around all the way to after the credits will see, there will be more Iron Man in the future, if enough people support Marvel Entertainment's new movies. One thing that did annoy me in the film was the blatant product placement advertising for Burger King, MySpace, Audi and more.
In terms of effects, the Iron Man film was a combination of animatronics props and 3D imagery. If you like explosions, there are a lot of good ones in this film. The fight with the villain was of course a 3D slugfest, which always takes away from the enjoyment of a film, as it's not much better than a video game but with better renderings. For fans of the 1960s Iron Man cartoon series, the jingle is played in a cool scene where the original lyrics would probably describe accurately what's happening on the screen.
Marvel Entertainment has really found a formula that works with this film and it seems that a solid franchise is in the works. Perhaps next time they can shy away from revealing all the cool oneliners in the trailers. I was expecting a basic movie with nothing special and I saw something that may end up being the best blockbuster of 2008.
Last Updated: January 24, 2022 - 11:00