Comics / Comic Reviews / DC Comics
Review: Green Lanterns Annual #1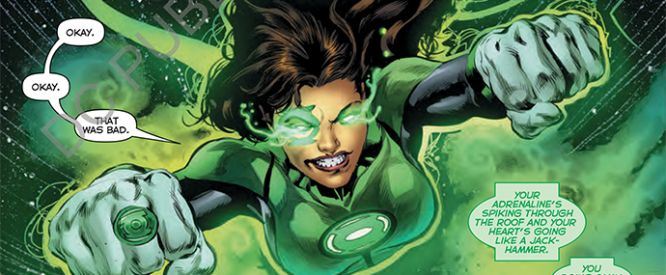 By Philip Schweier
June 4, 2018 - 14:24
Every service organization has its legends, from the Marine Corps to your local Rotary. That's true for the Green Lantern Corps, which takes a break from policing the universe to honor one of its own – a legendary GL who defended his people unto his dying breath.
But in the middle of the ceremony, age-old threats arise, and facts come to light that what was perceived as legend is actually truer than life – with some minor editing. This places Simon and Jessica on opposite sides of the strategic fence, but both with a common goal. In the end, the so-called "Lost Lantern" may have been the most dedicated Lantern of all.
On the surface, the story is entirely serviceable; a lengthier-than-usual done-in-one. Perhaps in the normal run of the series, it might have been crafted as a two-part story. But what I take issue with is the portrayal of the other Lanterns.
Hal Jordan and John Stewart are featured guests, and seem far removed from Simon and Jessica. Given they are Lanterns of Sector 2814, I expected greater camaraderie, but I suppose in the hierarchy of the Lanterns, Simon and Jessica are still freshman, while Hal and John are seniors. Despite that seniority, they come across as stiffs, more concerned with the rules of being a Lantern rather than getting the job done. This flies in the face of what I regularly see in the pages of Hal Jordan and the Green Lantern Corps.
The artwork is very dynamic and stylized, which I appreciate. My only complaint is that Jessica has never looked lovelier. By which I mean to say that Perkins art reinforces the pattern among comic book artists that they are unable to draw normal people. Everyone in the world of comics comes across like a CW cast member, unless there's a reason for them to appear doughy and unattractive.
Rating: 6 /10
Last Updated: January 24, 2022 - 11:00