Comics / Comic Reviews / DC Comics
Green Lanterns #25
By Paul Mason
Jun 22, 2017 - 9:44
I am a big fan of the NFL, which is irrelevant here. Except football is one of the ultimate team sports. And the art team on the Green Lanterns is an obvious team effort; I am never sure who deserves the bulk of the credit. All I know is that this title, since the Rebirth relaunch has consistently looked amazing with crisp pencils, sharp inks and brilliant colours making each page beautiful.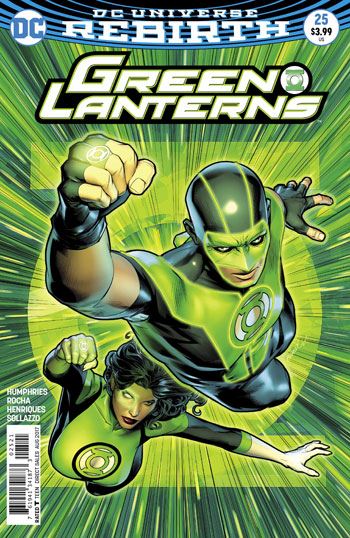 This issue opens with Simon Baz and Jessica Cruz flying to the vault of shadows which is explained as being a prison for the guardians enemies and a mausoleum for the first seven green lanterns. After a short confrontation with the guard of the vault and cryptic actions by Rami the rogue guardian we are flash backed billions of years. The reader is made privy to an abbreviated origin story of the first ring, and some pretty serious bonding between Simon and Jessica occurs, which has kind of been the heart of this title. Two imperfect and quirky humans who have been given incredible power and responsibility to protect earth.
Yet Humphries as well as really getting these characters down balances the human aspect with epic action. In short the creative team in this anniversary issue are at the top of their game.
Support this writer on Patreon
Last Updated: Jun 26, 2018 - 9:28