Comics / Spotlight / Progressive Panels
Freedom Fighters #1
By Andy Frisk
Sep 9, 2010 - 22:02
In "American Nightmare: Part One!," The Aryan Brigade (a group of "Nazi fetish villains"—as Freedom Fighter team member Firebrand calls them) attack a Native American run casino in Arizona in an attempt to secure some ill gotten cash to continue to fund their race war. The particularly chatty racist super crooks make their support of Arizona's new immigration law well known when Brigade member Reb declares, "Finally we got us a law what allows the violent eviction of these unwanted animals." The Aryan Brigade is composed of a pale, Aryan symbol tattooed skin head with bone spikes protruding from his skull named (aptly) Bonehead, a Confederate Battle Flag and swastika draped gunslinger with bad grammar named Reb, a hulking gasmask and trench coat wearing strongman named Luftwaffe, and a team leader named Backlash who has elastic, whip like arms. The aforementioned Firebrand and team mate Black Condor make quick work of them…
Freedom Fighter team member Human Bomb lands on an asteroid that's on a collision course with Earth in order to destroy it, but discovers he cannot because he'd be murdering a race of Neanderthal-like and uncivilized humanoid aliens. Trading places with fellow Freedom Fighter Phantom Lady, who manages to teleport the asteroid through Earth harmlessly, saving both man and alien kind alike, Human Bomb instead helps another Freedom Fighter, The Ray, dispose of a "super intelligent bacteria from a dimension where organic life is infinitely larger than we are" that has turned the inhabitants of an entire US town into a mind enslaved collective.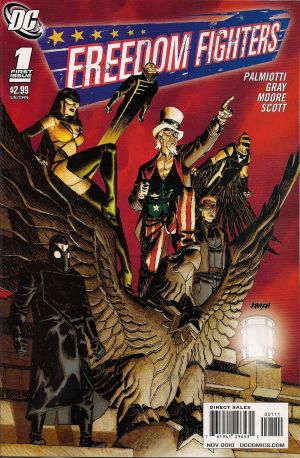 Finally, Uncle Sam, the living embodiment of the spirit of America (contemporary America or Midwestern Caucasian America that is) gathers the Freedom Fighters together to embark upon a quest to retrieve several mystical artifacts that could potentially be used to reassemble a US Civil War Era Confederate weapon of mass destruction that was never used. They also must rescue a recently kidnapped Vice President who was abducted while extolling the benefits of new healthcare legislation which her kidnapper refers to as "socialist nonsense."
This series is going to be a blast. I am going to have a fantastic time picking apart the blatant and ponderous political and social commentary that simply radiates off of nearly every page of Freedom Fighters #1. I might have to rename my column from Pencils and Pundits to Freedom Fighter Fries or something of the like since I may never need to read another comic book series again to find material for my column. Freedom Fighter Fries…hmmm, kinda catchy don't ya think?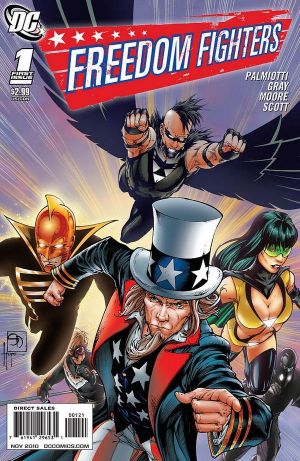 No, I don't think I'll be changing my column's name. Pencils and Pundits is a purposely cheeky enough title. I like to think it's serious and comical at the same time—I mean, who would dare have the arrogance to call himself a pundit…and then try to back it up? That's someone who expects his readers to take his words with a grain of salt, if not all the time, at least some of the time. Pencils and Pundits is esoteric enough to hopefully be catchy and interesting enough to pique a reader's interest, but hopefully not blatant enough to be too obnoxiously obvious. Freedom Fighter Fries would be as blatantly obvious and borderline obnoxious as Freedom Fighter Jimmy Palmiotti and Justin Gray's political pontificating is, even if I agree with their prolusions. Enough about me though…how about those writer guys?
Palmiotti and Gray's courage to call it as they see it concerning the much debated Arizona immigration law is as ballsy as it is apropos. Joining the ranks of the venerable Saturday Night Live by equating the law with an appeal to racism (see the Seth Meyers "there's nothing more Nazi than saying, 'Show me your papers'…It's their catchphrase" skit here) Palmiotti and Gray's assertion might be interesting and, as some might argue, the correct way to assess the law, it's not particularly unique or controversial at this point. Palmiotti and Gray get high marks for high mindedness, but just passing grades on originality.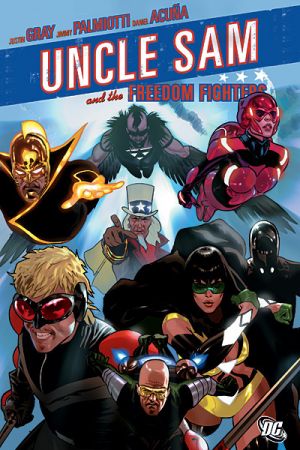 The Freedom Fighters last outing...
Any further examination or explanation of the ideals addressed and allusions made in Human Bomb and Phantom Lady's adventures in Freedom Fighters #1 or the Confederate super weapon plot would simply be an insult to the book and this column's readers' intelligence. What Palmiotti and Gray are getting at with these plots is pretty obvious. What keeps Freedom Fighters #1 from being insulting to its readers is Palmiotti and Gray's aforementioned gutsiness with their assertions, and the fact that for a quirky assortment of heroes who have no real standout member (like Wolverine is to The X-Men…and X-Force…and The Avengers…), the Freedom Fighters are a group of relatively unknown, and not very popular, superheroes who nevertheless form an interesting team of American archetypal characters. The powerful, mystical and visually striking Black Condor represents the uniqueness of Native America. Phantom Lady represents the once troubled teenage/young adult starlet (which is a uniquely American phenomena--her story is chronicled in the last few Freedom Fighter mini-series). Firebrand represents the powerful youth movement in America that is constantly striving to put its generational brand on the next American decade or century. The Ray's representation is pretty obvious (ray of light/hope, "shining city on a hill," etc.), The Human Bomb represents the suddenly explosive power of American military. Uncle Sam metaphorically sums it all up with his connection to the land spiritually and metaphysically. Overall, the team is a pundit or socially and politically conscious writer's dream. Yeah…I'm going to have a blast analyzing this series.
A comic book can't live on story and allusion alone though, and luckily Freedom Fighters has a pretty good artistic team at the helm. It's a team that effectively brings to life, with excellent fight choreography, the battles that the Freedom Fighters will be engaging in and have thus far. Penciller Travis Moore does a good job bringing to life the unique and detailed costumes of the Freedom Fighters and their adversaries. He also demonstrates the ability to handle several different kinds of locales and settings. I'm a stickler for background detail, nothing's worse than gazing at a panel that houses only the silhouettes of our heroes, villains, and extras. It just seems like either a demonstration of laziness or lack of ability when an artist skimps on the background (unless for artistic reasons—we can even argue that one though…). Moore fills in most of the panels with some pretty good backgrounds that are as diverse as the surface of an asteroid, to a near deserted town, to Air Force Two, to the oval office. Some panels he pencils though really deserve more background detail. Inker Trevor Scott deftly walks the fine line between too heavy and too light inks, and Rob Schwager drenches the whole affair in solid reds, whites, blues and other hues just as deftly. Black Condor, the most visually appealing character, is covered and colored in mostly black. Coloring a character such as this can be a nightmare of a task. Preserving any type of dimensional look to such a character can be tough, but Schwager pulls it off nicely.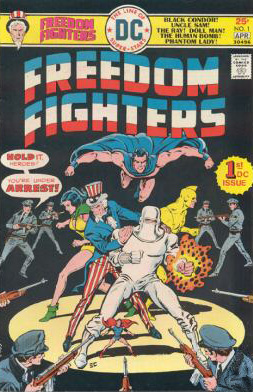 Circa 1973...
As part of the DC Universe since the early 1970s (the property was acquired by DC Comics from the defunct Quality Comics), the Freedom Fighters have had a pretty convoluted continuity, mostly due to all the different Crises that the DCU has lived through. Whatever the mess their past is, they appear to be here to stay as long as writers like Palmiotti and Gray keep them relevant. Whether or not you agree with their political allusions, you can't deny that this current incarnation of the Freedom Fighters will keep us talking, and writing…
Rating: 8.5 /10
Last Updated: Jun 26, 2018 - 9:28