Comics / Comic Reviews / More Comics
Four Eyes #2
By Zak Edwards
February 23, 2009 - 14:15
Four Eyes is a series which has me very intrigued. Set during the Great Depression in the United States, Four Eyes tells the story of a young boy who loses his father only to discover he worked for a mobster hunting dragons to use in the fantastic equivalent of cock fights. But there's something amazing about a series taking place in New York during the Great Depression in this time of ours. Its kind of funny for the cynical types, maybe it's not supposed to, but reading lines in a book like "Americans seeking relief from the drudgery of these troubled times" make some of us grin. But the hilarity of the impending doom of Western economies aside, the juxtaposition of a child forced to grow up too quickly with a corruption of a childhood fantasy like dragons is something to be seriously considered. So I'm looking forward to seeing how this series plays out. There is plenty of room and potential for many commentaries and analyses of many subjects from coming of age to economics.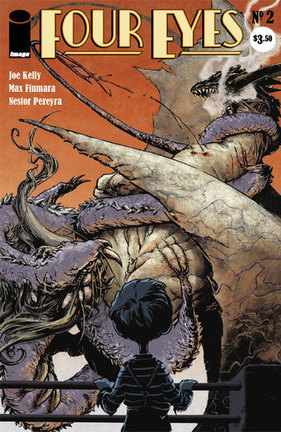 Writer Joe Kelly (Supergirl, I Kill Giants) has a concept and idea which had a high potential for success. By combining the hopelessness of the Depression with the moral ambiguity of organized crime and something fantastical like dragons together, Kelly has something worth reading just on paper. Despite the fantastic nature of the concept, everything is kept very grounded. The desperation of the thirties in America can be seen in almost every action and panel. The protagonist, Enrico, is a ten-year old boy who must assume the head of his household, not going to school, but finding work to help his mother, who rents out their bed by day and engages in questionable behaviour for money while Enrico is away. The violence he faces on a daily basis is disheartening, being forced to watch a corrupted society shape an innocent boy into a bitter tool for criminals. The dragons are kept in the context of being used for elaborate pit fights, heavily grounding them within reality. Even the occasional protester of the fights is reminiscent of protesters today, carrying signs and using very familiar rhetoric. So while the concept may be crazy, Kelly keeps things very close to life, and this helps Four Eyes be more than just escapism, but drawing attention to the desperation and lawlessness born out of economic downturns. And watching a couple of dragons beat the crap out of each other isn't that bad either!
Max Fiumara (Blackgas, Infinity Inc.) has a very expressive style. I find it able to deliver both the giant action of dragon fights, as well as deliver the smaller violence of Enrico's life, all while being able to display the emotion that fills the issue. It's very adaptable, being able to deliver all of what is demanded of the script. His dragon fighting sequence is particularly impressive, with giant panels of multiple dragons twisting and tangling themselves up with each other while smaller panels of the major character's reactions really drive home the fight's impact. It is a spectacle to see and I can almost recommend the book based simply on this sequence. Nestor Pereyra's colours really add to the sequences as well. The fantastci colurs of the dragons, with their purples and vibrant fires is juxtaposed with the very bland palette of the 'real' world.
8.5/10 Highly recommended series, grounded with some serious artistic abilities on display.
Last Updated: January 24, 2022 - 11:00