Foo Fighters: Wasting Light
By Andy Frisk
May 11, 2011 - 17:22
There's been a great deal said about how Wasting Light is a return to form for Dave and the guys in The Foo Fighters. If "return to form" is defined as "more of the same great stuff," then I'll have to agree with this overarching, multimedia catch-phrased, and boring cliché. Honestly, and much more simply, Wasting Light is another in a long line of great Foo Fighters albums from Dave Grohl, one of the greatest pop/rock/alt songwriters of his generation, the oft lambasted Gen X. These are the guys who brought you some of the greatest music ever written, the greatest rock revolution since the 1960s, and the multitude of horrible knock-off grunge and punk bands of the last decade…well, no generation is perfect. If anyone alive today represents the musical leanings, DIY ethic, and general self reflective nature of Gen X music, it is Dave Grohl (with the possible exception of Eddie Vedder). A veteran of Nirvana (do we even have to mention this anymore in context when talking about Dave?) and, along with Billy Corgan, the most prolific songwriter of his generation, Dave Grohl might seem to have written, played, seen, and done it all. Wasting Light proves that he hasn't, and he isn't done by a long shot.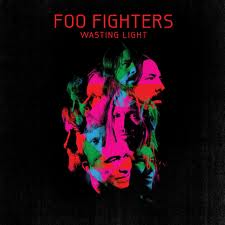 The Foo Fighters are dedicated to guitar rock. Not guitar rock in the sense of Led Zeppelin/metal type fret board athletic playing or, at the other side of the spectrum, three cord punk, but the beautiful amalgamation of every type of rousing anthemic, chord progressive, varying loud and hard vs. quiet and acoustic guitar rock that defines this era's rock music. On
Wasting Light
though, there is nary an acoustic guitar to be heard. This album is packed with up tempo rockers, some of which, like the pounding track "White Limo," border on hardcore. The fast and heavy guitars framed by Dave's distorted vocals on "White Limo" harkens back to "Weenie Beenie" from The Foo's first album
Foo Fighters
. Out of all the albums in The Foo's catalogue,
Foo Fighters
is the one that
Wasting Light
has been most oft compared with.
Wasting Light
does have a more unpolished sound, and boasts that it was recorded and mixed in Dave's garage by 1990s uber producer and mastermind behind the band Garbage, Butch Vig. This doesn't make it their best album since
Foo Fighters
though…again production quality and hardness of the music on a rock album doesn't make it or break it. Even if it sounds more like the beloved band in question's first album.
Wasting Light
is different from most of The Foo's other albums though in one major aspect. Every single song on this album is not only catchy and evocative of some of The Foo's other great songs, but each and every one holds up to multiple listenings. Sometimes one might be inclined, after a few listens through, to hit the fast forward button on some of The Foo's previous albums. This isn't the case with
Wasting Light
. This album might not be as packed with as many marketable singles as
The Color and The Shape
or
There is Nothing Left to Lose
, but each of those albums (even
The Color and The Shape
--my personal favorite) have songs that simply don't hold up to sustained multiple listentings. Every song on
Wasting Light
does.
Speaking of
The Color and The Shape
, the home of the greatest Foo Fighter song of all time, "Monkey Wrench,"
Wasting Light
is the home to second best song that Dave and the gang have ever written, "Walk." This track, which closes out the album proper, was my instant favorite song on the album, and when it started playing in the background during a scene in
Thor,
I nearly leapt out of my seat. When it blasted again at the end of the movie during the credits, I nearly leapt up again. "Walk" is the perhaps the most uplifting up tempo song that Dave has penned since "Monkey Wrench." It sonically reminds one of "Monkey Wrench," but lyrically and emotionally recalls the uplifting feeling that "Learn to Fly" from
Nothing Left to Lose
leaves the listener with. If there is one song that encapsulates the experience of
Wasting Light
, it is "Walk." This song manages to capture everything that is great about The Foo Fighter's varied catalogue of songs and puts it all together. Thematically it is perfectly suited for
Thor
and its protagonist's road to self discovery, but it is also a powerful rage against the real world dying of the light, metaphorically and existentially.
Dying is a theme that Dave takes head on with "Walk" and other various tracks on
Wasting Light
. This is specifically the case with, "I Should Have Known," on which Krist Novoselic plays bass and Dave references the experience of their friend and band mate's death. As a member of the middle age approaching and aforementioned Gen X though (of which I myself am a member), Dave might be feeling the pull of time. It's been 16 years since the release of
Foo Fighters
and 17 years since the death of Kurt Cobain. Kurt would be 43 this year and Dave is now 42. It was twenty years ago that
Nevermind
broke, and the music world was forever changed. It feels like yesterday and forever ago at the same time. I can only imagine how the whirlwind of the last 20 years have felt to someone like Dave Grohl. All I can say is that I'm glad he forged ahead, and is still raging against the dying of the light by refusing to waste the musical light he has left to share with the world.
Rating: 10 /10
Last Updated: August 31, 2023 - 08:12