Comics / Comic Reviews / Marvel Comics
FF #1 Review
By Andy Frisk
November 28, 2012 - 21:30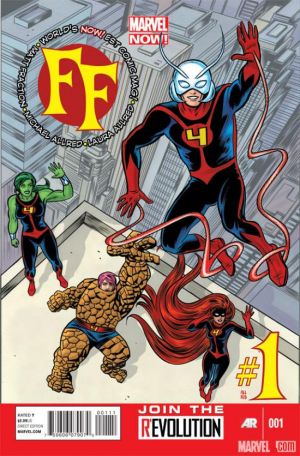 Reed Richards is ill, perhaps dying, and he is afraid that all of his family will succumb to the cellular degeneration that is affecting him. He hasn't told his family this, instead deciding to travel to other dimensions under the guise of a family learning trip which is really a search for a cure. He plans to be gone for only four minutes of relative Earth time, but to the Fantastic Four and their kids it will seem like a year. So in case the universe becomes cosmically threatened during those four minutes Reed and the rest of the Fantastic Four ask Medusa of the Inhumans, She-Hulk, Thing Girl (Johnny Storm's girlfriend), and Scott Lang AKA Ant Man to watch over the Future Foundation for them...they all readily accept except for Scott as he is still dealing with the loss of his daughter. Reed is convinced that some time with the FF's students is just the type of medicine he needs to overcome his grief though...and Reed is usually right about these things.
Following Johnathan Hickman on a title must be a daunting, and intimidating task, especially when it's not just one title that you are tasked with taking over, but two. Matt Fraction, regardless of what you think of his writing (personally he can be really, really bad and worse yet boring, but has his moments i.e. his run on
The Invincible Iron Man
), he has some of the biggest balls in sequential art world.
Fantastic Four
and
Future Foundation
(
FF
for short) were two of the best written and most engaging comics of the past few years because of Hickman's brilliant interweaving of the great family dynamic that is the Fantastic Four and some mind blowing and cosmically scaled stories and themes. In Fraction's first issue of
FF
, there is little that is cosmic or brilliant, but there is plenty of spot on character development and real life emotional drama. Scott Lang's reluctance to get involved with a bunch of kids so soon after losing his daughter is eloquently, touchingly, and realistically portrayed. Easily, Fraction makes Lang the most engaging and emotionally involving character in the story. Medusa, Thing Girl, and She-Hulk (a personal favorite of mine and a former member of the Fantastic Four) aren't as well flushed out, with the possible exception of Medusa. Hopefully, Fraction will bring some depth to them as well and make them as engaging as Lang is. If not this series is going to fail. Either way, we're bound to not see something as brilliant as Hickman's
FF
, but Fraction has the opportunity to grace us with a highly engaging
FF
.
There is little to none that is left to said about the artistic and creative team of Michael and Laura Allred. The two are living legends in the sequential art world. The Allreds' penchant for pop art, 1950s type looking characters, settings, and coloring can potentially mesh perfectly with Fraction's storytelling, as long as Fraction and Allred play off of each others' strengths. It really can work, but they'll really have to work at it.
Not nearly as bad as I expected, especially for a introductory type of first issue,
FF
#1 definitely has potential. I hope it lives up to it.
Rating: 8 /10
Last Updated: May 19, 2020 - 12:25