European Comics: An Industry in Despair

By Hervé St-Louis
December 31, 2015 - 13:42
Un Petit détour Gwen de Bonneval, Hervé Tanquerelle
European comics are going through hardships but have not yet changed or adapted to resolve fundamental issues hurting their success. Organizationally, creators are uniting as unions to protect what is left of their livelihood. Elsewhere, organizations meant to promote and highlight European comic production such as the Angoulême festival are caught in an administrative and political deadlock crippling the traditional advocacy and public outreach arms of the industry. Can the European comic industry be saved?
According to a documentary by French filmmaker Maiana Bidegain, since the 2000s, European comic publishers have increased the publishing of comics to force more bookstores and wholesalers to purchase more products than before. In the 1980s, about 500 new comics were published every year. Today, about 5000 comics are published every year.
While Bidegain reports that comic readership in Europe has doubled, the production has surpassed the buying power of readers. Every new week, new comics appear, just like in North America and Japan. But the ever-expanding release of new comics means smaller returns for publishers and the comic creators that make European comics.
There are too many comics produced in Europe. However, arguing that there is a glut of creative output is never an argument that is popular and easily made. Yet, bookstore owners cannot keep up with the pace. In my last visit to Europe, I was told by European comic experts and fans that most of these new comics are returned and destroyed after a few months.
Comic book publishing in Europe is similar to the book authorship model. Creators receive an advance from their editors to create one comic book. Unlike North America and Japan, most European comics are about 48-56 pages. When part of a series, they are released once per year as a hardcover albums. Cartoonists and illustrators create about one book per year. Writers can often work on several series.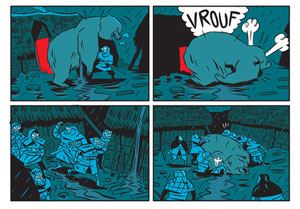 From Professeur Cyclope Gwen de Bonneval
The book-publishing model makes for higher-end comics with more reflection time for authorship. The end product being a hardcover is a beautiful work of art published on quality paper that retails for about 15 Euros. The production process of such a book galvanizes the energy of creators and publishers for months.
The same book-publishing model that has inspired many North American creators and publishers to move away from the monthly floppy comics to collected edition featuring more pages has been hailed as way to move away from the precarious nature of the direct market. Yet, precariousness occurs with European creators mostly because of the inflexibility of their labour traditions.
In my review of the problem, I noticed calls for unionizing and even discussion of pressure tactics such a refusal to sign comics or appear at book shows as retaliation methods to force the arm of the French government. Making comic is seen as a viable employment and often the only kind of work a creator will engage in. Related work in animation and design is seen as a necessary evil, not a complimentary endeavour for a cartoonist. European comic creators want to dedicate their time to their craft exclusively.
This romantic subscription has led European creators to pay increasingly large contributions to state labour programs such unemployment and old age pensions. Many can hardly afford such contributions. Fulltime work with one employer is not necessary to escape the status of a pure freelancer. A fulltime North American cartoonist may create about 48-56 pages worth of comics every two or three months as opposed to yearly. European cartoonists produce less but are not considered freelancers.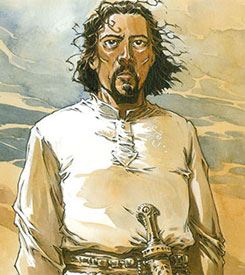 J'ai tué - Marat LF Bollé, Olivier Martin
North American publishers have been offering exclusivity contracts since the 2000s to secure the exclusive labour but creators are not attached to specific series. The contracts offer some benefits but are understood to be of short term duration. The North American model is more flexible with labour and projects. Multiplicity of formats such as floppies, trade-paperbacks, graphic novels offer more opportunities for creators to work on projects.
Self-publishing in Europe is nascent but without the institutional support of decades of successful projects distributed without publishers. Gwen de Bonneval 's
Professeur Cyclope
,a successful comic project financed through Kickstarter is an exception and a model that seems to be both inspiring and loathed by the traditionalist European industry.
Web and digital comics are seen as a solution for many creators. But again, risk-aversion has not led to more crowdfunding or self-publishing. Copyrights conflicts about comics continue to cripple the digital and Web comic models. Should creators receive the same 8% royalty rate for their electronic comics? Can a creator's union help secure better rights for threatened cartoonists?
Last Updated: August 31, 2023 - 08:12