America's Portrayal in European Comic Books
By Hervé St-Louis
June 1, 2009 - 23:54
The Europeans have a love hate relationship with everything American. They at once love the United States, deem it the country of freedom, entrepreneurship and the country that saved Europe from the devastating wars of the 20th Century. Yet, America continues to be a mystery and something to be treated as contempt, like that little brother that tagged along with you when you were a teenager. You don't hate him, of course, but he doesn't have your maturity and frankly, he's embarrassing.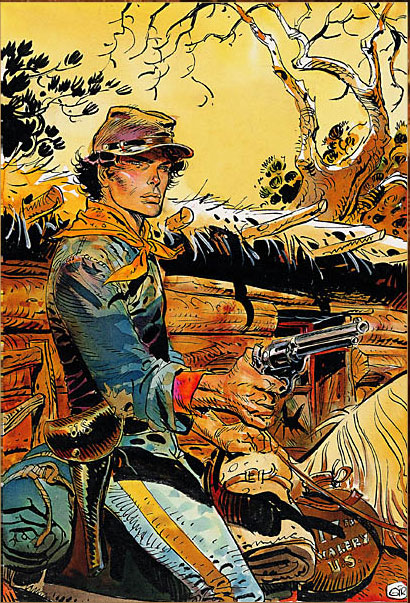 Europe's relation to the United States is similar. The Americas offer a great landscape for Europeans. American cities are larger than life compared to the typical European city, except for a few megalopolises like London and Paris. Its skyscrapers are stuff of legends. Americans have customs and a culture that is considered exotic by Europeans. There is truthfulness about the United States which is difficult to decipher in the multi-layered European way of being, where a yes doesn't always mean a yes, and a no is as confusing. The Europeans are constantly in awe of the frankness and genuineness of Americans. But they also like to use this as a criticism, meaning Americans are less cultured and less refined.
Looking at some comic books featuring the United States, there are a few themes that stand out. The cowboy and the Western, for example, have captured the imagination of European cartoonists for decades. Two very famous cowboys are
Lucky Luke
and Jean-Michel Charlier's and Jean Giraud (
Moebius
)
Blueberry
. Lucky Luke was created by Maurice de Bevere (Morris) in 1946 in a story published by
Le Journal de Spirou
. He was cool, didn't speak much but could shoot faster than his shadow. While Lucky Luke may not have become an icon of American culture, in Europe for generations, he has come to symbolize what the United States are. It's a land of pioneers and heroic figures building a society in a hostile environment. The Europeans, although they won't admit it, secretly envy this land.
Sergeant Blueberry, another such character created by Belgian Charlier and Frenchman Moebius, is about a cavalry man involved in conflicts with local Indians.
Blueberry
's stories are more adult in tone than Lucky Luke and were a direct evolution of the European comic book culture and industry faced with the leap of age of an entire generation in May 1968. No longer cutesy stories like those in
Lucky Luke
enough to sustain this industry. Yet, popular themes based on American culture could still be found and used to entertain readers.
But there has been a change related to globalization in how Europeans treat American themes in their comic books. Nowadays, series aimed at all ages, like
Les Blondes
,
Young Ronins
and
Hero Academy
borrow American popular culture icons, such as reality television and the cult of the physique and super heroes, only to adapt them to local European settings. Hence, the heroes of these new comic books, made to appeal to a younger audience, look more uniform to American comic book standards and culture, because the cues they use have become standardized in youths in both Europe and the United States. They even use a English wordings in titles and the texts of the comic books. It's an interesting development where American culture has become internalized by current European cartoonists and is a far cry from the romanticism of series like
Indian Summer
by
Hugo Pratt
and Milo Manara. In that series, about the early settlers and their relationships with natives. As close as Pratt and Manara tried to make that series feel authentic, it was always an external view of American society deeply influenced by the similarly titled song which served as the inspiration for the comic book.
Last Updated: January 24, 2022 - 11:00