Comics / Comic Reviews / More Comics
Eternal Descent #2
By Andy Frisk
May 9, 2010 - 22:21
Loki attempts to unleash chaos during metal rockers God Forbid's opening set in support of the newly demonized Lyra Constance's band Constellation Nine's headlining tour. Fortunately, Lyra, although possessed of new demonic powers (wings, hellfire, etc.) isn't corrupted spiritually, and she and Sirian (an angelic seraph) thwart Loki's plan with the help of God Forbid guitarist Doc Coyle.
Llexi Leon, writer and creator of the multimedia project that is Eternal Descent the comic book and band, promised guest star appearances by some of metal's biggest bands. He delivers by delivering God Forbid in issue #2 of Eternal Descent. God Forbid's lead guitarist, Doc Coyle, plays a special guest starring role as a hero when Sirian frees him from Loki's control and enlists him in the fight against Loki. (Coyle also sits down for a great interview which is reprinted after Eternal Descent #2's tale proper ends.)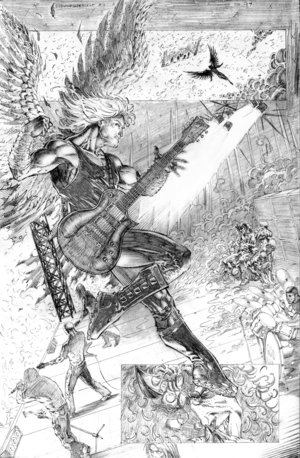 One of Metcalf's unfinished pages from issue #2.
The idea of demonic forces influencing and corrupting heavy metal music is as old as the assertion that the song "Stairway to Heaven" by Led Zeppelin played backwards is a prayer to Satan. Never before though has a visualization of this fantastical mixture of devil and metal (and angel) been nearly as devilishly cool as artist Jason Metcalf's rendering of Loki, Sirian and Lyra's battle during the set by God Forbid. Metcalf's style is a unique blend of Jim Lee type physicality, detail, and realism mixed with a dash of Todd McFarlane like supernatural edginess. While Lee and McFarlane's influence on Metcalf is evident, Metcalf is not a cheap knock-off or imitator of the two. Metcalf vividly and powerfully brings to life Leon's gothic vision of a modern metropolis haunted by demons, angels, and heavy metal singers trapped in between them. The detail Metcalf puts into Sirian's guitar and the musical instruments used by God Forbid is a real visual treat for readers, especially those who know their way around such instruments.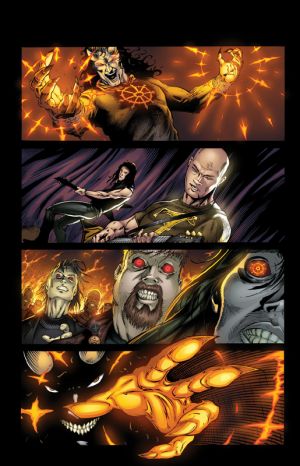 Rock music and comic book joint ventures over the years have hit with varying degrees of success. For the most part, comic books that focused on musicians or bands usually have been the biographical kind like the classic Grunge Comics Presents #2: The Pearl Jam Story. Leon is trying something different though, and so far it's working. Eternal Descent rocks on many levels.

Rating: 8.5 /10
Last Updated: May 19, 2020 - 12:25