Comics / Comic Reviews / More Comics
Eternal Descent #1
By Andy Frisk
April 24, 2010 - 21:24
"We have this supernatural tale of rouge angels, unwilling demons, enslaved souls, and nihilistic madmen. Thrown in a healthy dose of heavy metal, and you'll find yourself in the world of Eternal Descent."
-Llexi Leon (in Eternal Descent #1 via comicsbulletin.com)
Llexi Leon, musician, writer, and creative force behind Eternal Descent, the comic book and musical project, is attempting a unique multimedia melding of genres that by all accounts should be a match made in heaven. Eternal Descent the comic book tells a supernatural horror/thriller story, and Eternal Descent the band brings to life the music that enhances and completes the experience that is Eternal Descent the overall project. Eternal Descent (the music project) released an album that introduced the main characters of Eternal Descent (the comic book) titled "Losing Faith" in 2007. The project's next album, which doesn't have a release date yet, is reportedly to be produced by Eddie Kramer ("the legendary producer…famed for his work with artists such as Jimi Hendrix, Led Zeppelin, and KISS…" according to eternaldescent.com/news) and will continue to enhance the comic book's story. Along with the comic book and musical soundtrack, Leon also plans to release Eternal Descent motion comics. As a multimedia concept Eternal Descent seems primed to offer a little of everything that can potentially appeal to nearly everyone. According to Leon though, as stated in the interview with him for comicsbulletin.com, which is reprinted in Eternal Descent #1, "The comic book series is at the core of the project, rather than an external component."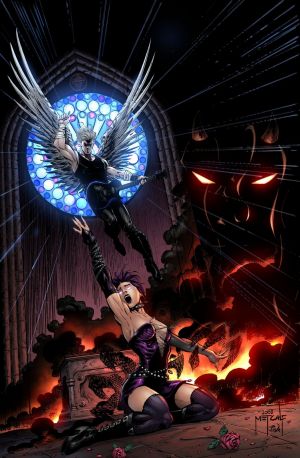 So, as the "core of the project," how is Eternal Descent the comic book? It's actually pretty good. You might think that an ambitious project such as this might be tough to coordinate (he's set up metal "guest stars" for the comic book which includes Static X, Atreyu, Children of Bodom, Firewind, and God Forbid AND just completed endorsement deals with ESP Guitars and Kahler USA), but if Leon follows his plan and lets other aspects of the project grow out of the "core" comic book project, then he might just have a winning concept on his hands.
Eternal Descent #1 introduces its readers to Lyra, a female rock/metal musician, Sirian, a guitar slinging seraph, and Loki, his demonic nemesis. When Lyra is attacked by demons, Sirian steps in to save her, but behind the scenes, Loki is up to something involving Lyra, who there is more to than meets the eye. Leon has put some thought into this story. It starts out solidly by setting the stage and creating enough intrigue, mystery, and action to draw readers back for more.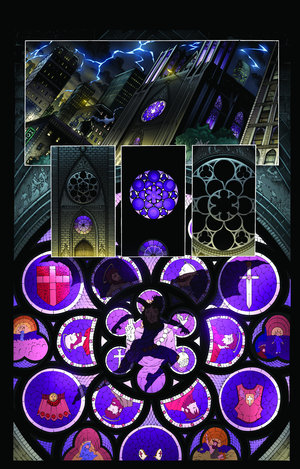 What really makes issue #1 of Eternal Descent really worth checking out is Jason Metcalf's artwork. It's really good. His dark and moody pencils really capture the atmosphere Leon envisions. Metcalf does an excellent job of recreating the dank alleyways of a gothic modern metropolis that is haunted by demons, fallen angels, and one slightly tortured yet noble seraph of the angelic choir. The detail and style Metcalf puts into Eternal Descent's characters' outfits is perfectly suited as attire for rock/metal angels, demons, and rockers. He also powerfully pencils a highly kinetic battle scene between Sirian and the demons then captures Lyra's descent into and rescue from the underworld by Sirian in a pretty unique way. His panel flow from one scene to another is effortless and easy to follow. His also unique take on the folding and unfolding of Sirian's wings is just plain cool visually and artistically.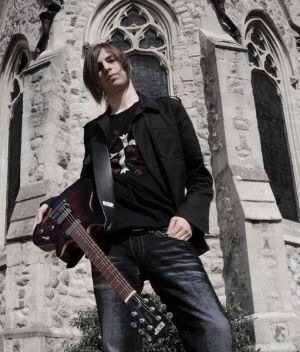 The mastermind behind Eternal Descent, Llexi Leon.
Eternal Descent mastermind Llexi Leon is really onto something here. His concept which melds metal/industrial/goth music with a comic book about angels, demons, and those in between really has the potential to succeed in multiple mediums at once. If you're a fan of metal and comics, then this is the project you've been waiting for.
Rating: 8.5 /10
Last Updated: August 31, 2023 - 08:12