Scott Chitwood on Drone, his new series from Red 5 Comics
By Patrick Bérubé
Apr 27, 2009 - 8:00
On Free Comic Book Day, Red 5 Comics will publish Atomic Robo and friends. Aside from a self-contained Robo story, readers will also be threated with a preview of Drone, a new series from the young and dynamic publisher. The Comic Book Bin asked Scott Chitwood, writer of the series, what this new offering was all about.
CBB: First of all, what can you tell us about Drone?
Scott Chitwood: I was reading an article about the war in Afghanistan. It was talking about how a group of soldiers were pinned down by a sniper in a small village. They called in an airborne drone to take out the sniper who never knew what hit him. But what was interesting about it was they said the drone was controlled by a solider in a bunker back in the United States. That blew me away (no pun intended). The idea that you could kill someone from the other side of the planet via satellite remote control was an interesting concept. It would almost be like a video game. And how far could the military take it? The next logical step from an airplane drone would be a robotic drone.
So my story is set in the near future as the military starts testing robotic drones for the first time. There's a war going on in Kazakhstan and the US is using the drones to hunt for the leader of a local rebellion. They are controlled by soldiers back in the US. What the military doesn't know is that in Houston, TX, a hacker and his buddies have secretly been watching the satellite feeds for entertainment. To them it's the best reality TV ever as they watch the drones conduct their missions. They're totally detached from the fact that it's real war and people are dying on the other side of the planet. But when they see a group of rebels hijack a drone transport, lock out the military from controlling the drones, and take the technicians hostage, they find themselves in the position of being the only ones that could save the lone surviving technician on the ground. Risking getting caught, they clumsily take control of the satellite and save the tech named Cat. Thus ensues a chase across war torn Kazakhstan as they try to get her to safety while avoiding pursuing rebels, dodging enemy controlled robots, an increasingly damaged drone, and trying to maintain satellite contact with the robot. It's a little bit Terminator, a little bit War Games, and a lot of action adventure.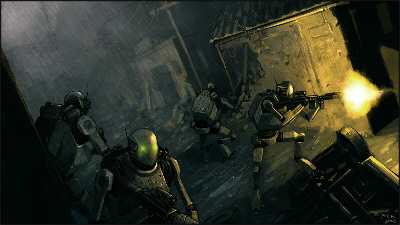 CBB: Was it hard to come up with a robot story/design that didn't look like any previous material, especially since Red 5 Comics is already publishing Atomic Robo?
Scott Chitwood: It was hard to come up with ANY robot design that was unique, much less avoiding something similar to Atomic Robo. Once we figured out the size of the drone and a few features required for the story, it came together well. Jesse McGibney started out by doing five or six different robot designs, then I picked and chose the parts I liked. We assembled a version that was tweaked into the final design. It was hard to avoid it looking like a Terminator or a Transformer or something from Star Wars. We thought it looked similar to the Honda robot on steroids, so that helped give the real world effect we were looking for. That led us to taking real world robots and retooling them, and that took them further and further away from the fanciful look of Robo.
CBB: As the writer did you find it hard to gives these robots ''emotion'' and/or a personality? And what about the artist?
Scott Chitwood: Since the robots are remote controlled, they don't have to convey a lot of emotion. They're essentially avatars or almost marionettes for the controllers. But I did want the robots to convey the body language of the controllers. When a fully trained military operator is controlling the drone, I want it to look more lethal and in control. When a rookie hacker is controlling the drone, I want it to be more clumsy and awkward in its movements. Kind of like a video game player on the first level of a new game. But as the drone gets more battered in the story, it loses the transparent dome on its head and what's underneath is still robotic, but it has some human quality to it. The drone's transition from faceless killer to something more human reflects our hero's change in attitude from seeing warfare as entertainment to something more serious that he has an emotional investment in.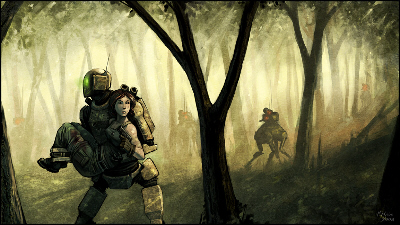 CBB: And as for the story, you said you were inspired by an event in Afghanistan but are you also using other current political events as an inspiration for the setting?
Scott Chitwood: I wouldn't say any other political events were a particular inspiration. I did make a point to keep it away from the Middle East. It was too easy to dump the story there, and ZMD: Zombies of Mass Destruction already covered that front pretty well. (As a side note, I'm hoping we could do a Drone vs. ZMD story if this series has a good reception.) I wanted a somewhat developed country so it was believable that the rebels could take over the drones with a little help. Kazakhstan was a good location for an imaginary futuristic war. It had good terrain and was situated next to Russia and China. Plus, it's the location of the Russian spaceport, so that added an interesting angle to the story. So I was more focused on a good location that suited the needs of the story rather than a specific political inspiration.
CBB: So Drone makes it's official debut in ''Atomic Robo and friends'' created specially for the Free Comic Book Day but do you already know when reader can expect the first issue?
Scott Chitwood: The pages shown in the Free Comic Book Day issue are actually 10 pages from the first issue. It's pretty much the opening scene of the series. Page 11 is where the story really kicks in. We don't have a debut date for it set yet, but it should be towards the end of this summer. The artists are wrapping up Issue #1 then heading directly into Issue #2. When that's done we'll set the debut date and submit it to Diamond. We hope to do this one monthly rather than bi-monthly like we've done on some of our series.
Last Updated: Dec 19, 2017 - 22:52