Comics / Comic Reviews / DC Comics
Review: Ruff and Reddy Show #5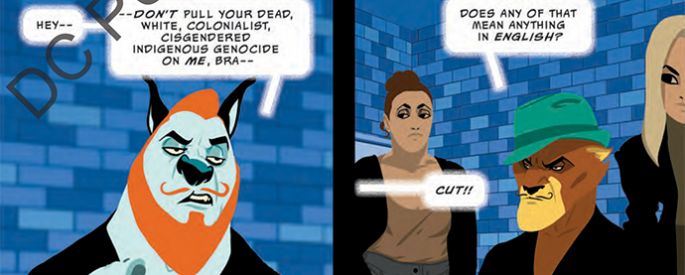 By Philip Schweier
February 28, 2018 - 04:46
The Ruff and Reddy Show follows the revived careers of a comedy team who barely tolerated one another at the height of their popularity. Since their professional break-up, those feelings have matured into poorly masked mutual hatred. Yet both have put aside their feelings in the interest of personal gain, in whatever form that may take.
Writer Howard Chaykin knows a thing or two about Hollywood, having worked in television for more than a decade. He knows the fickle nature of fame, and never needs reminding that in show biz, BIZ is the operative word. It's not about art, nor is it even about entertainment. It's commerce, plain and simple. And this philosophy runs rampant throughout the entire series. Some may mistake it for cynicism, or disdain. But the truth is, he's peeling back the thin veneer of celebrity-dom to display its ugly internal mechanism, and using two almost-forgotten cartoon characters to do it.
Chaykin has made no secret that his political leanings are firmly to the left. Mine are on the opposite side, yet on the aisle. When he chooses to wax political in his work, I appreciate how rather than stand on a soap box and shout the party message, he instead chooses to hold up a mirror to his own left-leaning frères, that they may see how ridiculous they sometimes sound. Case in point, the hipster scene depicted above, and a later moment when Reddy tells his partner in a moment of scripted dialogue, "And that kind of attitude is why you won't survive into the 21st century – feelings are facts!"
He pokes fun at the millenials who believe they're leading a revolution because they sit and re-tweet pleas of assistance from GoFundMe. He reminds us that there is no correcting injustices that happened generations ago. He demonstrates that however unthinkable a tragedy may be, there are still those who will collude in their own enslavement.
And using two almost-forgotten cartoon characters to do it.
Rating: 10/10
Last Updated: January 24, 2022 - 11:00