Why Diggle Instead of Dale Gunn?

By Hervé St-Louis
December 17, 2014 - 17:27
The writers and producers of the television DC universe which begun with CW's popular Arrow like naming every character after a comic book one. Often, they even dig up obscure characters like Felicity Smoak, Arrow's information specialist. Very few characters appearing in Arrow have been new. Of note Oliver Queen's mother and father are new characters that had not appeared in comics. One new addition has been John Diggle, Arrow's bodyguard and security expert.
John Diggle
Diggle had not appeared in comic books before Arrow. He joins the rank of a few characters who came from television, radio or movies, such as Jimmy Olsen, Barbara Gordon (Batgirl), and Harley Quinn. But there was a character similar to Diggle that the writers and producers of the television DC Comics universe could have used. Dale Gunn was a black security specialist, much like Diggle who appeared in the old Justice League of America during the Detroit years. Diggle's role and portrayal is very similar to Dale Gunn. Both are older veterans with field experience who gain the trust of super heroes in their work.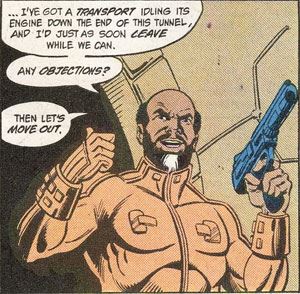 Dale Gunn
Nevertheless, Dale Gunn has since returned to the DC Comics universe through the
Vibe
comic book series. In the old continuity, he worked with Vibe. He does so again in a similar capacity as a super hero handler and security expert. Perhaps Arrow's producers will figure out a way to showcase a meeting between Dale Gunn and John Diggle in the television series!
Last Updated: September 6, 2021 - 08:15