Comics / Spotlight / Black Astronaut
DC/Vertigo Notices "Black History Month" with Incognegro
By The Editor
February 5, 2008 - 07:26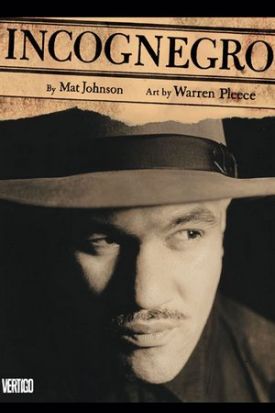 Cover
DC Comics would like to introduce you to a unique and important new graphic novel: Incognegro, written by Hurston/Wright Legacy Award-winner Mat Johnson and illustrated by Warren Pleece, to be published by Vertigo this February during Black History Month. It has already received some amazing praise:

"Mat Johnson has done it again, namely written a deep story of pain and laughter that probes the complex dynamics of white supremacy in America. Don't miss it!"
—Cornell West
"Mat Johnson's thoughtful writing and the moody realism of Warren Pleece's art make this nasty bit of tarnished Americana come alive like a prodded snake. An exciting, disturbing piece of work."
—George Pelecanos
"A talented writer of both fiction and creative nonfiction, Johnson's publications have established him as an important new voice in the African American tradition."
—Walter Mosley
"Ingenious, enlightening and powerful."
—Paul Theroux
"Though entertaining as hell, Incognegro transcends mere entertainment and enters the realm of relevant art. It kicks graphic ass!"
—John Ridley
"Mat Johnson doesn't just push the boundaries of race, he blows them up."
—ESSENCE
"Smart and fast-paced."
—PUBLISHERS WEEKLY
"A powerful, passionate, funny adult work."
—BLACK WORLD TODAY
"Well worth the price of admission. Vertigo is a line never afraid to take risks to tell a new story. With Mat Johnson as part of their arsenal they have many more stories to tell and whole new audiences to reach. Viva la Comic Book."
—CRIMESPREE MAGAZINE
"As a light-skinned African American growing up in a predominantly dark-skinned neighborhood, Johnson was electrified when he learned about the early exploits of Walter White, executive secretary of the NAACP, 1931–55. In 1919, White used his own pale skin to pass for a white and investigate lynchings in the deep South. Inspired by White's experiences, Johnson tells the similar story of Harlem journalist Zane Pinchback, whose own eyewitness reports of lynchings are regularly written up in a New York periodical under the byline Incognegro. Pinchback is on the verge of abandoning his undercover work for an editor's job when he discovers his own brother is in jail and days away from lynching for apparently murdering a white woman. How Pinchback tracks down the real killer, saves his brother's life, and narrowly escapes an angry mob form the plot of a riveting meditation on racism and self-reliance. The beautiful chiaroscuro pen-and-ink illustrations provided by veteran artist Pleece bring to vivid life one of the darkest chapters in America's racial history."—BOOKLIST
PUBLISHER DETAILS ABOUT THE BOOK:
In Incognegro, first-time graphic novelist Mat Johnson lends his powerful literary voice to tell the story of Zane Pinchback, a New York journalist whose pale skin allows him to pass for white – or go " incognegro" – to expose the lynchings and acts of racial violence that were commonplace in the early 20th Century American South. After barely escaping an investigation with his life, Zane is sent on a new story – the arrest of his own brother, charged with the brutal murder of a white woman.
Incognegro is Johnson's second project with DC Comics. Born and raised in a predominantly black neighborhood of Philadelphia, Johnson developed his writing style while living in Harlem as a young adult. His second novel, Hunting in Harlem, won the Hurston/Wright Legacy Award for its satirical portrayal of urban gentrification. He currently resides in Texas, teaching creative writing at the University of Houston.
Illustrator Warren Pleece has regularly illustrated for DC Comics and Vertigo, most notably on Hellblazer and The Invisibles. His eye for detail and crisp linework bring the historically rich world of Incognegro to life.
A thriller with the power to both exhilarate and outrage, Incognegro captures a chilling snapshot of one of the bleakest periods in our country's history. Already among the most important young novelists today, Johnson is available to discuss his standout first graphic novel and his real-life background story that brought him to write it.

136 pages, B&W, $19.99, Hardcover.
Last Updated: March 10, 2022 - 22:00