Comics / Comic Reviews / More Comics
Conan the Barbarian #1
By Andy Frisk
March 20, 2012 - 21:06
Northlanders scribe Brian Wood reunites with his "Girl in The Ice" Northlanders' arc and DEMO artist Becky Cloonan and the two manage to take Conan, the character and franchise, to new heights. Wood and Cloonan inject some much needed life and vitality into what is quickly becoming a stagnated character at Dark Horse Comics. Conan, with his Irish name and northlander mentality and outlook, is a perfect fit for Wood's talented tale spinning. Cloonan is no stranger to penciling and inking Wood's violent, yet highly intelligent and well-crafted, tales of swords, seafaring, and adventure, and her version of Conan is at once recognizable and totally new. Wood and Cloonan's Conan is younger, more brash, and not nearly as muscular as his later incarnation is often portrayed. This Conan, while much more well written, reminds me of the portrayal Conan received in his most recent big screen appearance. Do not let my allusion to that pretty awful (but in a good way) film deter you from checking out this great new interpretation of Conan the Barbarian though. The age and brashness of the hero are all they have in common, even if Cloonan's art and Wood's portrayal of Conan's mannerisms remind one of the recent film portrayal.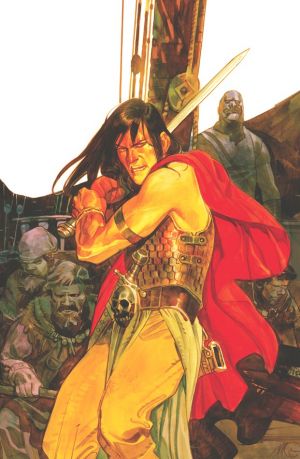 For his first arc on
Conan the Barbarian
Wood interprets Robert E. Howard's original
Queen of the Black Coast
story. One doesn't have to have read this tale to enjoy what Wood is doing here with Howard's original material. Conan, running from a precarious situation, literally jumps on board with a group merchants who've managed to avoid the clutches of Belit, the tempestuous pirate queen who plagues merchants along the Black Coast. Conan is at once enthralled by the stories of her and envisions her as "not unlike the winged warrior goddesses of the north, the terrible bringers of pain and pleasure that he, as a youth, dreamed about." When he finally gets the chance to meet her though, will her wiles tame his ways or open them up to acts unspeakable, even to a barbarian?
We really can't tell from the events of issue #1, but the way that Wood sets up the story and Cloonan, using all of the brilliant sequential art that she brought to full bear on
"Girl in The Ice,"
we are completely hooked on what will develop between the two over the course of the next several issues. This type of story is where Wood excels. He weaves tight self-contained stories that play out at a masterful pace and build and release tension as well as the most provocative and gripping narratives of literature, and way better than most monthly comic books do. I'm going to really miss
Northlanders
, as it was a brilliant historical saga that was packed with brilliant commentary and stories, but hopefully Wood will resurrect some of that
Northlanders
magic here in the pages of
Conan the Barbarian
. Even if he once again has to delve into a totally fictional time period and locale in order to do so.
Not a replacement for
Northlanders
, but a worthy read simply because of Wood and Cloonan's highly literate work,
Conan the Barbarian
looks like a monthly pull list keeper.
Rating: 8.5 /10
Last Updated: February 5, 2023 - 09:06