Comics / Comic Reviews / More Comics
Conan #42
By Geoff Hoppe
Jul 23, 2007 - 23:11
Dark Horse editors, creative folks and such: a request, if you please. Cary Nord's a fantastic artist…but could you find someone else to do covers on Conan? Seeing Joe Linsner, Ladronn and Tony Harris's interpretations of Conan on the covers made the series fun. Give the hardworking Mr. Nord a break. Aren't there artists dying to draw Conan?
What's wrong with Conan #42? I'll tell you what's wrong. Dave Stewart's absence is what's wrong.
A disclaimer: I have nothing against Richard Isanove. Marvel's 1602 made comics history for three reasons, and only two of them are named Kubert and Gaiman. Any man who can make Queen Elizabeth look as convincing as Captain America knows his stuff.
…BUT…Isanove's style doesn't suit Conan's world. The visible brushstrokes call unnecessary attention to themselves. They distract from the story. They're the Romantic, Delacroix-ian counterpart to Dave Stewart's precise, unobtrusive Neoclassicism (but Dave Stewart is WAY cooler than J.A.D. Ingres. Hands down).
Isanove does one thing very well, however. He captures Conan's youth. Nord and Stewart's Conan looked thirty. At this point in the story, he's about twenty. Isanove's softer palette brings out an appropriate naiveté in Conan.
Ok, enough art ranting. Cross my heart.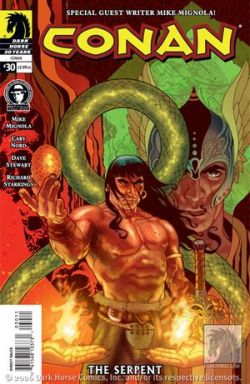 Tony Harris did amazing things with the cover art.

In Conan #42, Conan sneaks into the house of Nabonidus, the Red Priest, under contract to murder the corrupt cleric. Nabonidus' momma didn't raise no fools, and Conan is soon imprisoned by the priest's booby traps. To his surprise, Conan discovers that Nabonidus' trusty servant (played by Amy the Gorilla from Congo) has also imprisoned Nabonidus, and the young nobleman who hired Conan.

Tim Truman maintains the excitement he's inexplicably created. Rogues in the House, the basis for Conan's current story arc, isn't exactly action-packed. There's a lot of sneaking around, and a comparatively demure setting. Truman must have recognized this, because he's used some fine layouts to give the story a gripping pace that overcomes some of the source's weaknesses.

Worth the money? For Robert E. Howard fans, sure. Casual readers, pass it up.

Last Updated: Jun 26, 2018 - 9:28