Comics / Comic Reviews / Marvel Comics
Captain America #3
By Hervé St-Louis
October 23, 2011 - 09:37
Captain America battles the Ameridroid his robotic gigantic clone to a stand still. Elsewhere, Captain America's enemies from beyond continue to plot his downfall and their return to the world. Can Captain America save the day?
I'm already bored with this series. Whatever magic Brubaker had in his previous series, he's lost here. This Captain America is all broad lights and straight to god super hero. All the crime noir and thriller feel of the early run of his previous series are gone. That's the problem with Captain America. The character does not do well when he's exploited as a straight super hero. He needs conspiracy and a sense of dark forces moving in on him and his world, where we can see him outsmart his enemies only so much. Sure, he has villains with sinister plans that see one step ahead of him. Unfortunately, there is nothing secret to them or their motive. There is no discovery, no dread and Captain America just looks like a big buffoon battling giant robots in daylight.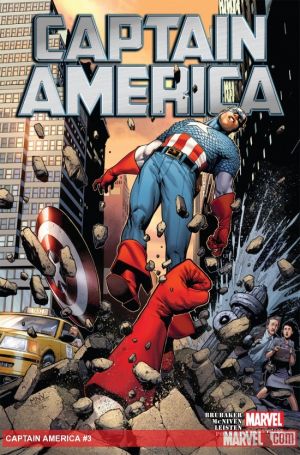 McNiven is a great artist, but his work here only serves t highlight the weakness of the series. Was the series a real suspense thriller, his Captain America might have a chance to look and feel right. But here, we see stitches and chainmail details on the costume which only reinforces the reality of the world Captain America lives in, while he looks like an idiot wearing a rubber suit. It doesn't work, unfortunately, no matter how good the artist is.
Rating: 6 /10
Last Updated: February 5, 2023 - 09:06