Does Canada Need a Master Cartoonist Like Doug Wright?
By Hervé St-Louis
June 6, 2009 - 09:26
Commentator Alex Kelly, responding to my initial review of the Collected Doug Wright: Volume 1 asked me to explain more about the period of history of Montreal where Doug Wright lived. I'll also use this opportunity to contest the notion that Doug Wright is Canada's master cartoonist and question whether Canada even needs a master cartoonist.

The 1950s and 1960s were important years for Canada and Montreal. In 1967, Canada celebrated its centennial and also hosted the 1967 World Expo in Montreal, which was the most successful world's fair of the 20th century, and some would argue the most popular of all time, as improvement in modern air travel and communications made visits to recent Expos easier than in the 1960s.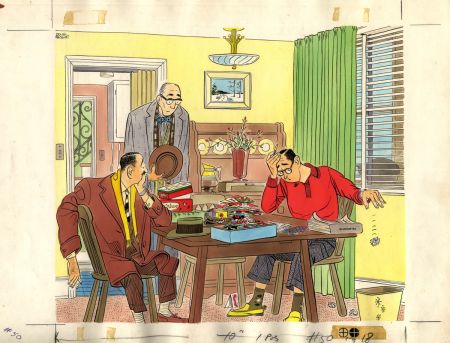 From Doug Wright's work
Premier Maurice Duplessis governed the province of Quebec from the Post War all the way to his death in 1959 – this period was known as the Great Darkness in the province of Quebec. He banned unions, harassed the press and was a reactionary trying to impose a closed and social conservative agenda on the people. Critics could end up in jail or denounced as reds. Duplessis was accused of selling out access to the plentiful natural resources of Quebec to American and Anglophone interests for cheap. After his death, his party, the Union Nationale, lost its grip on the province, which then elected the Liberals. The Liberals' leader, Jean Lesage, nationalized hydro power and started a government sponsored social revolution (known as the Quiet Revolution) to force the province of Quebec to catch up with the rest of North America in economic and social standards. But nationalist's sentiments, long repressed, started to come out in the 1960s and were far more radical than the past grievances from Francophones. Splinter groups started to commit acts of terrorism, leading to several deaths and lots of property damage, while a larger movement, saw Francophones demanding control of their province from the small English minority and, to a certain extent, the rest of Canada. Part of the movement was nationalist, part of it was rooted in the same social revolution movement found in the United States, Western and communist Europe at the time. Imagine May 1968, but in Montreal.
It was a crazy time in Montreal and in Canada. Yet our "Master cartoonist" Doug Wright slept at the switch throughout the entire period. Most accepted masters, don't have to be politically motivated, but there is always some sense of what's happening in the world around them to some degree. Maybe Wright's reaction was to focus only on safe themes like family life in a rich suburb, blocking out the realities and the protests happening all the time just outside his office window. The publisher of
The Collected Doug Wright
didn't ask comic book historians and pundits what they thought of Wright. To be fair, theirs is one of the first critical explorations of his work. Yet, they chose to bill him Canada's master cartoonist without such a thing being an accepted notion in the industry and the literature. This way of billing Doug Wright has been passed along to much of the Canadian media, which is too lazy to do any critical analysis and verify the publisher's claims. And so it goes that now, a lot of people say Doug Wright was Canada's master cartoonist without this having ever being critically accepted, the way
Jack Kirby
,
Charles Schulz
, George Herriman,
Walt Kelly
,
Will Eisner
, Burne Hogarth and many more have been accepted as "masters."
One of the commentators of my review of the
Collected Doug Wright vol. 1
asked that I find my own Canadian master if I'm not happy with his choice of Doug Wright. This is a ridiculous thing to do. He's trying to set me up, because I'm a Francophone, to say that
Albert Chartier
, a French Canadian is probably Canada's master cartoonist because he was one of the most prolific. First,
Patrick Bérubé's review of Chartier
would suggest otherwise.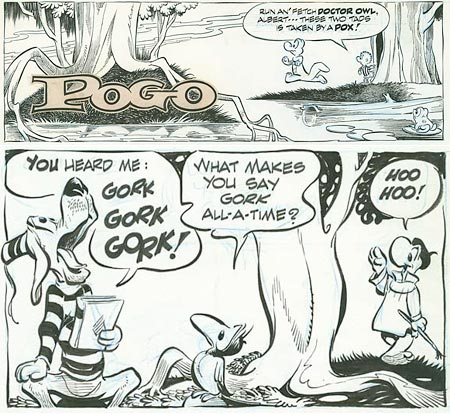 Walt Kelly's Pogo - Is he better than Burne Hogarth?
Second, my criticisms of Doug Wright's new label as the poster child of Canadian comic strips is not based entirely on language and ethnic issues. People often forget that I am a Francophone who publishes a Web site in English. If I was only motivated by narrow linguistic and ethnic motivations, I would not be here publishing a Web site about all comic books, from manga to super heroes to European to "alternatives" (I don't like this word because it diminishes and segregates the work of creators). Just because I'm a Francophone doesn't mean that I have to pick a Francophone as Canada's master cartoonist, or any master at all.
Third, if Doug Wright is Canada's master cartoonist, does that means that he's better than Harold Foster, Lynn Johnston, and any other Canadian cartoonist before and after? That in itself is insulting to all cartoonists because it creates a cast system in the comic book arts. Is it possible, to say that Eisner is a better cartoonist than Hogarth? Is it possible to say that Walt Kelly was more a master than George Herriman? Is it possible to say that Jack Kirby ranks higher than Charles Schulz? Such claims would all be laughed at. There is certainly credibility in saying that one creator's body of work is more influential or that the draftsmanship and creativity had more flair. It's quite easy to claim that one of the inkers who worked on DC Comics'
52
series is nowhere in the same league as
Alex Toth
. That's a given. Some creators are better than others. But to impose a rigid cast system strikes me as ridiculous and insulting. I like Walt Kelly for different reasons than I like
Burne Hogarth
. Their work is so different that it would be foolish to say that one is better than the other.
Fourth, the publishers of the
Collected Doug Wrigh
t are also playing on traditional Canadian inferiority complex where we – Canadians - need to measure up to Americans and play "me too." By proclaiming Doug Wright as Canada's master cartoonist, they fill a void and a need by cultural critics and the media to have someone to measure up to various celebrated American cartoonists. The Canadian media is more than happy to play along and proclaim Doug Wright Canada's master cartoonist even if most of the reporters had never heard about him before.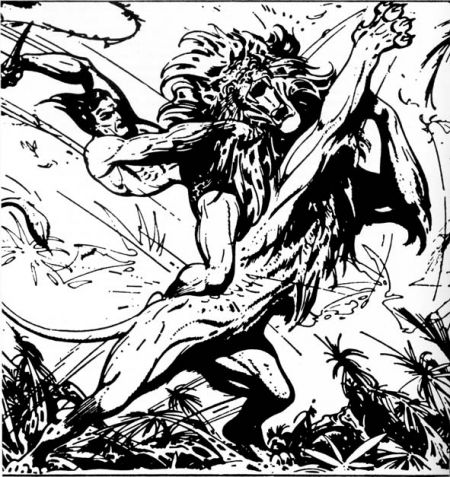 From Burne Hogarth's Tarzan - Is he better than Walt Kelly?
Fifth, saying that Doug Wright is Canada's master cartoonist limits the discussion one can have about his work and that of other cartoonists from the same period, before and after. It puts a rigid order on what people are expected to think about him and shuts off the debate before it has even begun. Drawn and Quarterly, the publisher of the
Collected Doug Wright
has been busy encouraging reviewers to write up reviews of the book while the so-called independent Canadian comic book blog
Sequential
, whose mission is to cover themes and topics related to Canadian comics has been trumpeting all positive reviews of the book, while ignoring the critical views expressed here, at
The Comic Book Bin
. Sequential is closely affiliated with the Doug Wright Awards whose founder, Brad Mackay, was the editor of the
Collected Doug Wright
. Most of the
Collected Doug Wright
reviewers would not be considered experts in the field. On the other hand, I've been covering comic books critically since 2002 at
The Comic Book Bin
, and have been reading them since I was five and seriously collecting them when I was eight-year old. At
The Comic Book Bin
, I've written my share of critical analysis on comic books. At the lowest, I have posted 600 articles and reviews at
The Comic Book Bin
(it's impossible to provide an exact count of how many articles I have written after publishing the site for so long - from April 18, 2009, to June 5, 2009 I can certify that I have written 40 articles). As an editor, I have provided guidance to many of the writers who have also written critically about comic books at
The Comic Book Bin
. But the opinion of a real comic book pundit and historian posted on Canada's largest comic book magazine are completely ignored by proponents of Doug Wright such as
Sequential
and Drawn and Quarterly. Instead, they would prefer that the public and the media drink their Kool-aid about Doug Wright being Canada's master cartoonist.
Last Updated: March 10, 2022 - 22:00