Comics / Comic Reviews / More Comics
Buffy the Vampire Slayer: The Long Way Home Part I
By Julie Gray
May 31, 2007 - 23:36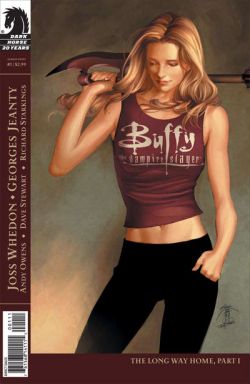 Buffy the Vampire Slayer: The Long Way Home Part I cover art
Our girl Buffy has had a somewhat colourful existence. And
'Buffy the Vampire Slayer: The Long Way Home Part I'
takes that very colourful existence and pumps it full of adrenaline. Set after the end of season seven when the television show expired, it's fairly evident that Mr. Whedon had some very particular ideas in mind when he wanted to expand the universe of our beloved slayer. Personally, I'm a little uneasy about the whole 'multiple Buffy' idea but for the most part, this comic is relatively solid.
The timeless and unmistakable humour of Buffy is captured wonderfully in this comic. It brings the character to life, making the art work (as splendid as it is) seem that much more alive. Joss Whedon's brilliance is apparent on every page and for that, I'm eternally thankful. The familiarity of the characters, which could easily be a world apart from their real-life counterparts on screen, is what gives this comic its spirit. It's both comforting and reassuring and with those two feelings apparent, I take to this comic like a vampire to blood.
Buffy is still kicking appropriate amounts of demon butt left, right and centre. That's a good thing. But now faced with various 'complications' (when is she not?) like a very unhappy sister that is now the size and height of the Empire State building, it's safe to say that Buffy's got a lot on her plate. It's nothing she can't handle but there's a moment where we see Buffy in an almost melancholic mood, brought on by random thoughts of the past and what might have been before the destruction of Sunnydale at the end of season seven.
Buffy's characteristics and traits flow in this comic as does the storyline. No hitches and no questions, it's just straight in without any fuss. And mentioning Sunnydale isn't without reason as Sunnydale looks to become the focus of the next issue after the cliff-hanger at the end of this one.
The colours, art work and lettering are all masterfully applied. The dialogue flows and is easy to follow on the page. But the beauty of this comic is typified by the cover art, gloriously created by the talented artist, Ju Chen. If that isn't enough to get you to open this comic, I don't know what is.
'Buffy the Vampire Slayer: The Long Way Home Part I'
is a great first issue for season eight and I'm delighted to see the story heading back to Sunnydale. In some ways, deep down, I don't think Buffy would have it any other way.
Buffy the Vampire Slayer: The Long Way Home Part I
is published by
Dark Horse Comics
. You can preview the comic book
here.
Art Work:
9/10
Story:
8/10
Overall Rating:
8.5/10
Contact the author of this review:
Julie@comicbookbin.com
Last Updated: Jun 26, 2018 - 9:28