Comics / Comic Reviews / More Comics
Buffy the Vampire Slayer Season 9 #6 Review
By Leroy Douresseaux
May 8, 2012 - 10:10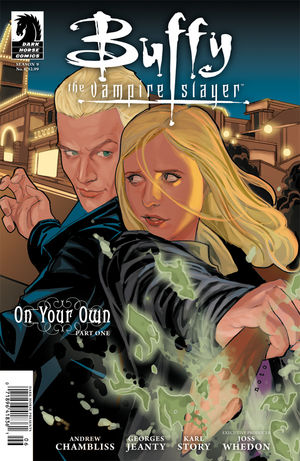 Buffy the Vampire Slayer Season 9 #6 Cover A
Buffy the Vampire Slayer Season 9, like Buffy the Vampire Slayer Season 8, chronicles the adventures of Buffy the Vampire Slayer, post-television series (which ran for seven seasons). Season 9 finds the end of magic on Earth and the rise of zompires – vampires that ignore the rules that allow humans and vampires to coexist.
Buffy the Vampire Slayer Season 9 #6 ("On Your Own" Part One) opens in New York City in 1973, where it finds the Pam Grier-like slayer, Nikki, and her Watcher, Crowley, dealing with vampires. Nikki, however, has an even bigger problem that may actually be more complicated than dealing with slaying vampires.
Back in the present, Spike stands in for Buffy. The bleached-blond vampire assists San Francisco Police Department Detective Dowling in dealing with zompires, and also gives the cop some information on vampires, in general. Meanwhile, Buffy's own personal problems lead her to Nikki's son, Robin Wood, and a momentous decision.
THE LOWDOWN: I think that it's been about five years since I've read a Buffy comic book, although I did read an issue of Angel & Faith last year (which I liked). I doubt that this ninth issue of Buffy the Vampire Slayer Season 9 will create many new Buffy fans (if any), but I think Buffy fans will likely enjoy it.
This story isn't necessarily about slaying, although there is some slaying. On Your Own is a story of mother and child, and it is a bit surprising, even poignant. It shows the dramatic side of Buffy, and the character drama is what makes Buffy the Vampire Slayer like no other vampire thing.
POSSIBLE AUDIENCE: Buffy fans will like Buffy the Vampire Slayer Season 9.
Rating: 7.5 /10
Last Updated: January 24, 2022 - 11:00