Comics / Comic Reviews / More Comics
Buffy the Vampire Slayer #13 Review
By Zak Edwards
September 10, 2012 - 17:21
I have to admit, my reading of the Buffy comics has been, in general, more out of loyalty than actual enjoyment and fairly spotty with this new season. Season Eight began with wonderful indulgences of budget-less writing that included more wonderful single panels than actual stories and, if we are being entirely honest, lost its way extremely quickly. Buffy, it seems, has all but been used up as a concept, something most fans were very familiar with by the conclusion of the seventh season. Yet even that final season had moments of brilliance and the same can be said for these comics.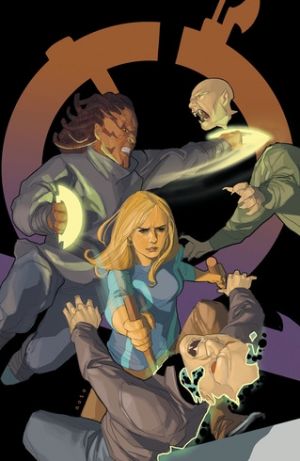 Season Nine is a more overt attempt to use the familiar metaphors that the series has always found strength, namely using b-movie horror, camp, and pop to discuss themes of growing up and living life. Now, as Buffy enters her late twenties (much like her audience), she is faced with difficult decisions and the fact that her life is defined by being the Slayer, not a person who can pursue their own dreams. It works metaphorically but, like most of later period Buffy, it hasn't worked out very well in execution. Things have been haphazard for a very long time and, while writer Andrew Chambliss has a good handle on these characters, what they do and say comes across as quite contrived. Buffy as bodyguard is a move that has simply made sense given her powers, but I feel things haven't played out enough to justify her decisions or the apparent reaction Kennedy claims either. Part of what made Buffy so frustrating in seasons six and seven was watching her make stupid decisions that didn't seem consistent with anything except plot progression and this happens again here. Coupled with a lack of any great dialogue moments, the book just isn't very good quality but showing obvious signs of care, respect, and attempt at trying to rise out of the muck. It may get there, who knows, but it has been a very long time since Buffy was consistently good and my patience is almost completely lost.
If the writing shows great care even as it doesn't work, Georges Jeanty's pencils show nothing but disregard. The artist choices of the Buffy comics, with the obvious exception of Jo Chen's gorgeous covers, has never been great, and the book continues to look inconsistent and fairly terrible. Panel to panel, Jeanty's art varies and there is a telling panel near the end that simply show Buffy and Kennedy are sporting different hair colours, pretty much looking the same otherwise. Jeanty's challenge of making characters look familiar without going overboard is difficult, but I have never been of fan of the art here, this latest installment doesn't change my opinion one iota.
Grade: 4/10 Buffy as a franchise has been on the cusp of former glory for years now, it's really up to the reader to continue to believe on the dream (or rewatch on Netflix instead).
Last Updated: January 24, 2022 - 11:00